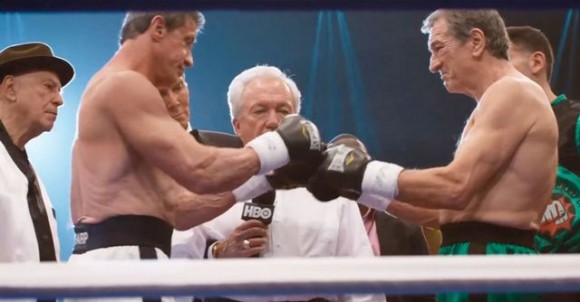 I'm looking forward to the Rocky redux coming out Christmas day called Grudge Match, starring Sylvester Stallone and Robert De Niro, both playing aged boxers coming back for one more bout.
But just as interesting to me is the sight of the strutting, cocky General Motors, fresh out of bankruptcy, challenging BMW, Ford, Toyota, and even Tesla to a fist fight in the auto arena.
Right now GM is everywhere. I'm waiting for even Mike Tyson to start shilling for them. They have their own Italian stallion (mare) in new CEO Mary Barra, who is on every magazine cover but Playboy. GM is positioning Cadillac as the BMW killer, while dismissing Mercedes and Lexus as over the hill World War II vets.
GM is hyping Cadillac versus Tesla as though it is Eminem slugging it out with sexy little Taylor Swift. GM has noticed Tesla's $12 billion market cap and wants to knock off the Elon Musk publicity machine with its own.
I think they are pegging the Ford F-150 as a future target with a Silverado attack, but for now it's Cadillac against the sissy brands and then a comeback title fight against the "Ultimate Driving Machine."
I'm fascinated by the GM approach, and I think we all can learn from it. Even if you don't have all the money and the cards, act like you do. Be the Mouse That Roared. Guarantee victory over the favored opponent like Joe Namath did against the Colts in 1969. Play your hand like you have four aces. You may start to believe in yourself and become dangerous.
Question: Will Cadillac ever be "Cadillac" again?
Watch Johnny Cash sing about his Cadillac
in "One Piece at a Time."