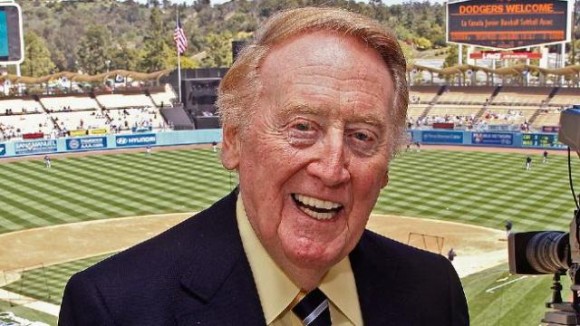 Baseball is more than just a game for me. It is woven into the fabric of my life. When I was about to be wheeled into heart surgery 6.5 years ago my entire immediate family regaled me with "Take Me Out to the Ball Game" for encouragement before being pushed into the operating room.
When Harry Caray, the great Cubs announcer, died, Noah and I journeyed to Wrigley Field to place baseball memorabilia at his makeshift memorial.
As Garrett Morris used to say on Saturday Night Live, "Baseball's been berra berra good to me."
A couple days ago I had the privilege to hear Vin Scully do the Los Angeles Dodgers versus San Diego Padres game. Scully has been broadcasting for 66 years. At the age of 88 he sounds great and his knowledge and recall seemed right on. I was thrilled to hear him, but I couldn't just listen to the play-by-play. I wanted to vet him, to see if he was all there, if he had lost something.
I do this with older people. I don't want them slipping and holding on with their fingernails to former glory. I did it with Ronald Reagan when I had a sense he was losing it in his second term, but I didn't want to believe it. I did it with my own father as I saw him fade physically. Thankfully he kept his mental faculties until he died, but I was always searching for signals of diminishment.
One of the hurtful things about aging for me is not just the sagging skin and aching joints, but the fear of not being on my game, mentally.
I feel solid in every way except one – name recall. I know it has slipped a tad in recent years. More than I want to admit, a person's name will elude me for a few seconds as I urgently search my mental desktop for a clue to retrieve the name I seek.
So when Vin Scully flawlessly went through the lineups it was reassuring. Scully goes back to Jackie Robinson, Roy Campenella, Duke Snider and Gil Hodges. He was mentored by Red Barber who did radio in the 1930s.
Scully grew up in the Bronx, solidly Irish and Roman Catholic. His father sold silk in the garment district, which seems beautifully appropriate with his silky dulcet tones. He graduated  from Fordham in 1949 where he played center field on the baseball team and did football play-by-play on the school radio station. He sent out 150 letters looking for a radio job after college and found one live job in Washington DC. His big break came after doing an NFL game when the press box was filled. He broadcasted the game from the stadium rooftop in freezing weather without a hat and coat. He never indicated that he was cold in the broadcast. Red Barber was particularly impressed with his performance and the fact that he never injected his personal feeling into the play-by-play. It launched his career.
The beauty of Vin Scully is that he found his perfect career and then spent his life perfecting his work.
I don't root for the Dodgers, but I love the wonderful delivery of Scully, the consummate pro who just keeps on going and going and gives me hope for my future.
Question: Would you like to work until you're 88?