What do you do when you go for a brief vacation to the Bay Area to visit family?
Naturally, you study up on the history of Greenland.
Greenland is getting some interest these days.  Donald Trump, still a real estate developer at heart, recently tossed out the idea that the United States should buy it from Denmark.  Of course, the Danes put a kibosh on the deal, which may mean negotiations have begun.
A recent scholarly article published by Northwestern University geologists has proven that Erik the Red, the Viking who fled Iceland after a murder and conviction in 985, colonized a much more temperate Greenland than was previously thought.  It was in the 50° range many months of the year, making it a good place to raise animals, fish, and harvest ivory.  About 350 to 400 years later a "little ice age" seemed to discourage many Greenlanders, and they left.
In the last few years, old Norse settlements have been discovered as the climate appears to be becoming more temperate, and real estate developer types are finding renewed interest.
Why this is so interesting today and so disturbing to me in the heart of Silicon Valley, with one of the most benign climates in the world?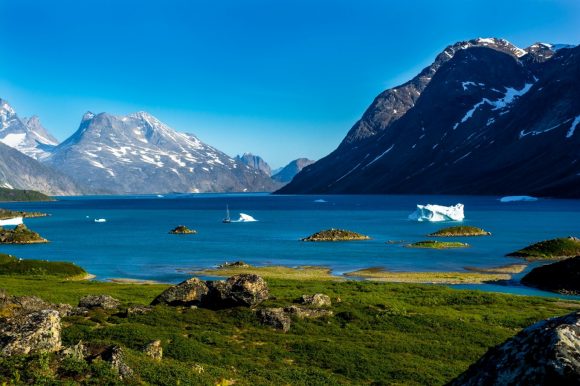 It seems like so many folks here are paranoid about "the existential threat of climate change."  Living in the Midwest, climate change is generally a footnote to most political and economic discussions.  Even most of the Democratic politicians running for the Presidency in 2020 do not make it a major emphasis, probably because their polling data indicates it does not move the needle in the crucial early primary states.
But in California, among the intelligentsia of Silicon Valley and malleable young people who hear the voice of doom about the planet burning up in their lifetime which is expounded almost every day in school and their media, it is a real fear. They do not know that Greenland was mild 1,000 years ago, then got very cold, and now is getting more tolerable again.  They don't know what they don't know.
I do believe the climate on Earth is getting slightly warmer now, but it does not worry me.  People are very smart, and a capitalist economy will adapt very quickly and make it into a net positive.
What does worry me is that kids are being indoctrinated in school and by Facebook and TV on the huge danger they face, and, ultimately, bad public policy decisions will be made that seriously undermine our prosperity.
If one bought into conspiracy theories, the manipulative tentacles of Vladimir Putin and Russia could be seen all over "the existential threat of climate change."
Putin did not invent "climate change," but long ago he came to the conclusion that Russia's economy was backward and almost totally dependent on oil and gas for hard currency.  Nobody wants a Russian dishwasher or car or machine tool.  If you are Putin, and his new buddies the Saudis, you desperately want American oil fracking to end and the 6 million barrels a day it produces to go away.  If he can shrewdly manipulate American public opinion to embrace the climate change disaster theory and boost the "kill dirty fracking" line he wins the game, and we have $80-$100 per barrel oil again.
Theories about the weather go hot and cold.  Check out the Greenland story.
Question: Do you believe climate change is mainly caused by people?