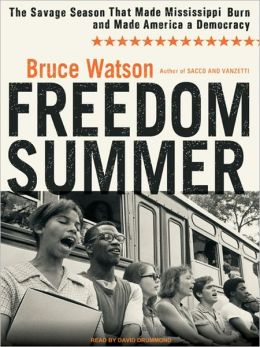 By Jerry Levine.
It's been a month since George Zimmerman was acquitted of murdering Trayvon Martin. Some media commentators suggest that when it comes to race relations, little has changed in the past 50 years. "No white jury is going to convict a white person of murdering a black person in the South." I disagree. To quote Charles Barkley, "When it comes to race, I don't think the media has a pure heart." Driving for high ratings, which enhances advertising dollars, the cable news stations ran the trial non-stop, knowing the racial animus they created would keep people glued to their sets. I always preferred Rodney King's, "Why can't we all just get along?"
To reflect on how things have changed since the "bad old days," I reread Bruce Watson's Freedom Summer, an account of the summer of 1964, when several hundred American college students descended on segregated, reactionary Mississippi to register black voters and educate black children.
On their first night there, three volunteers — Goodman, Chaney and Schwerner — disappeared and were later found murdered in Philadelphia, Mississippi. A few years later, the perpetrators, who turned out to be the local police and Klansmen, were acquitted. It was not until 2005 (41 years later) that the ringleader was convicted, but the others involved still remain free.
Watson quotes a volunteer about what sent her to the South. She remarked on a scene from the movie Judgment at Nuremberg, when a judge asked a German housekeeper what she had done under Hitler. The volunteer asked herself how she would feel 30 years later if someone had asked her what she had done during the civil rights movement and could only say, "nothing."
I was reminded of my own short-lived "Freedom Ride," a lunch counter sit-in with black and white friends in Montgomery, Alabama, in the spring of 1962. We naively believed that Gandhian pacifism could defeat knee-jerk hatred and brutality. Thank God no one paid much attention to us or beat on us. We stayed for three days at my black friend's house and then went off to spring break in Florida. My friend however, stayed home in Montgomery with his wife and 3-year-old daughter. I was terribly fearful for their safety. They were the real heroes.
The Federal Civil Rights Act passed in 1964 during the Freedom Summer, and the Voting Rights Act followed. Mississippi began to change, as did the rest of the country. By the end of 1965, 60% of Mississippi African Americans were registered to vote, compared to only 7% in 1960. But getting elected was another matter. Jim Crow gave up power slowly. Yet within a few years, Medgar Evers' brother, Charles, was elected mayor of Fayette with the backing of a former Klan leader. By the late '70s a black man from the Delta was elected to the U.S. Congress and a black woman was elected Miss Mississippi.
There is still a debate as to whether the Freedom Summer was a catalyst for change or an unnecessary provocation inducing a greater white backlash. Watson is uncertain, but does conclude "the summer changed the minds of blacks who came to look upon themselves as somebody." Watson also believes that the volunteers were not the heroes of the story. That honor goes to the locals. The volunteers left a month or so later, returning to their northern middle class life. The locals were finally empowered at the ballot box, but they still faced poverty and discrimination.
With each passing generation, this country continues to make strides in racial tolerance. We are not yet perfect. But will mankind ever be perfect?
Question: Have your feelings on race changed?