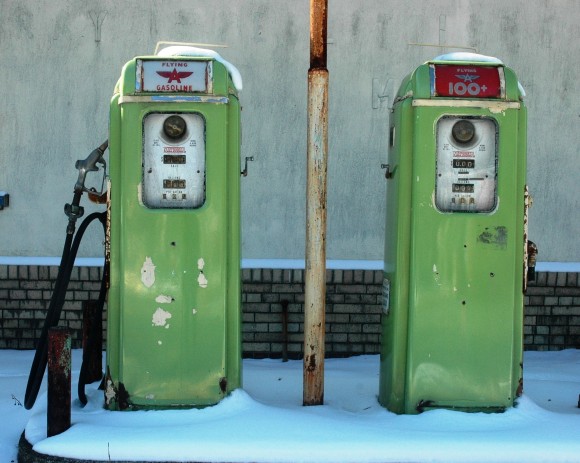 Are you happy about the price of gas falling below $2 per gallon? You probably should not be. You should feel angry and scared, unless you drive 150,000 miles a year or make mostly automotive gear. If you live in the rest of the machining world a sinking feeling should accompany the sinking price of petrol and natural gas.
We are in a severe commodities recession now and may be headed toward a deflating commodities depression. The price drop has been caused by several factors and currently shows little sign of reversing. The biggest reason is China's slowdown in manufacturing. Ok, you're no fan of the Beijing Bandits, but they fueled the commodities boom of recent years and now they are taking us down with their waning appetite for goods.
China's leaders are desperately trying to guide their economy to a soft landing as they move away from an economy based on manufacturing to one more weighted toward tech and services. This is an extremely difficult task, and they may not be successful in making a stress free de-emphasis from making things, what they have done for 30 years.
Virtually every commodity related to making things, including food like corn and wheat, has been murdered over the last year. Oil is the poster child, affected by slack demand. Saudi Arabia's willingness to allow oil's price to fall by not curtailing its production is partially because it fears Iran is taking its market share. U.S. production has rebounded with fracking, which has brought forth major new production in North Dakota, Texas, Ohio and Pennsylvania. Natural gas is killing coal in the U.S. for power, yet prices continue to sink even as it is used more, because of conservation and mild weather.
Metals like copper and nickel are falling with slack Chinese demand. They are setting multi-year lows almost daily. Speculators are doing what speculators do, leaning on prices when they are dropping, thus exacerbating the fall. The dollar continues its strong rise against almost every world currency. The euro has fallen almost 30 percent from its peak and is near parity with the greenback. The Canadian dollar, which not long ago was worth more than the U.S. dollar, has fallen 30 percent. This is brutal for U.S. exports. It is tough on the machining world here.
The tractor market stinks, hydraulics are lousy, construction machinery is mediocre, oil and gas are ugly, mining is a disaster. This is a lot of bad news for our machining world.
So automotive is thriving with cheap gas, cheap financing, and the world's car makers here in North America are enjoying themselves with an 18 million unit year.
The Fed may raise interest rates a tad in December, but Janet Yellen has to be scared about a strengthening dollar, the possibility of a hard landing in China, a fiscal mess in Washington, and a declining participation rate in employment, which masks the huge unemployment rate for the poorly educated. The Wall Street bond players keep lobbying the Fed for higher rates. Bernanke and Yellen have resisted behind the scenes because of just what is happening now – the potential for a China and commodities double dip.
So are you reveling in that cheap gas at the Shell? If it gets much lower you may want to crawl into your shell.
On the positive side, Today's Machining World's spies tell us that Section 179 tax deductions for capital equipment may sneak in before Dec. 11. Congress is doing its usual dance before the Christmas break. I'm hoping for the best with the China-commodities headwinds. Make sure to call your local Congress Person to help get the bill passed!
Question: What is the best pickup truck on the market?