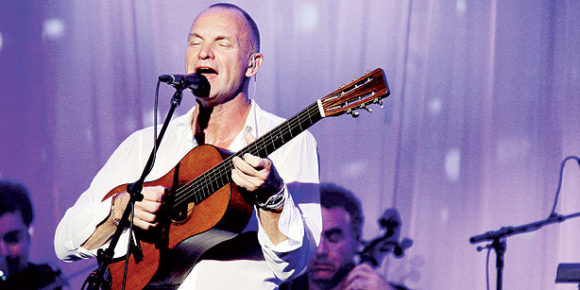 Two friends sent me David Brooks' column, "Going Home Again," which appeared in last Thursday's New York Times. Rarely does one person recommend a column out of the blue, so when two astute people send me one I take notice.
Brooks wrote about hearing the British writer-musician, Sting, speak at the TED conference in Vancouver, British Columbia. Sting spoke about how years ago he lost his creative juices. He just could not come up with fresh exciting music. At first it was a short flatness, then weeks and months of drought. It stretched into many years of producing nothing vibrant, nothing that made him happy or excited an audience.
Finally he started thinking about his childhood in the north of England. He lived on a street that led down to a huge shipyard where giant ocean-going vessels were built. He circled back to childhood and his muse returned. He has a new musical, "The Last Ship," which he is performing in New York and will soon be on Broadway.
The point of Brooks' column was the value of circling back to our youth to find inspiration. It is not just the memory, it is the experience we bring to the images of our past. He evokes the Robert Frost poem about the path not taken in the woods to illustrate how older people go back in memory and "impose narrative order on choices that didn't seem so clear at the time."
I think back to high school baseball, being benched by my coach after a disappointing pitching performance, and then quitting the team in anger. It was perhaps an immature response by a 16-year-old boy, but it quickly led to writing sports for the high school paper, which led indirectly to becoming Sports Editor of The Michigan Daily, which inspired me to be an off-and-on writer for 50 years. The seeds of our creativity lie in our childhoods but they are nourished by experience.
And from an economic and esthetic standpoint it is creativity that gives us joy and success. When I visit my sister, Susan, I always ask her to play the piano. She is a gifted musician and I love to hear her play. Her music stirs my memory and my soul. She plays songs from the great musicals like "My Fair Lady," "The Sound of Music," "South Pacific" and "Oklahoma," and I sing with her and cry. It brings back memories of singing with my Dad and Sue when we were kids. There is a strength lingering in those memories.
I still sing a lot even if I forget the lyrics. It gives me pleasure and ease. It makes me feel more connected to myself. When I have that feeling of peace and connectedness I feel more access to my uniqueness and personal vision of the world.
I had a discussion today with a fellow who builds special attachments for screw machines. He gets fired up when he talks about thread milling. Now he's starting a new screw machine rebuilding business. I told him he was crazy to get into rebuilding because he is deflecting himself from his creativity to focus on the mundane, for which he was going to be paid by the hour.
I sincerely believe if you have a muse you need to use it and use it hard, or it will evaporate or hide. I hope you all are in touch with your special gift. If not, maybe you should follow the bread crumbs back to your roots.
Question: What songs bring back sweet memories for you?