Those Russian thieves! First they steal back Crimea, then they steal our election (maybe?), and now they are poaching our talented labor force. They are bribing our good ol' American cowboys to help them build their latest empire—Beef!
In 2010 Russia passed the Food Security Doctrine, which set a goal for the country to become self-sufficient in its food production. The country has never had a domestic beef industry, with most of its beef having to be imported. Rich Russians want easier access to a great ribeye and there is a huge opportunity to export beef to China and the Gulf States. The new industry also provides jobs. Russia is in the midst of a Beef Rush.
In the last six years, Miratorg, Russia's biggest beef-producing company, acquired vast fields abandoned after the fall of the Soviet Union. It ripped up weeds and forests and planted imported grass seed. It imported tractors, horses, and cattle, predominantly from the U.S. and Australia, and in just a few years produced a herd of around 400,000 cows. Miratorg says it wants to have a herd of 1 million cows by the end of the decade. The U.S. cattle industry took centuries to develop its infrastructure and breed cattle optimized for beef, but with the aid of high-tech genetics and a vertically integrated business model Miratorg, in a span of five years, created the largest herd in the world. In the U.S. we have several steps in the steak industry. A calf spends about a year in pasture, then goes on to a feedlot, then a processing facility and finally to a restaurant. At Miratorg every stage is under one roof. It even has cooking demos for preparing steak.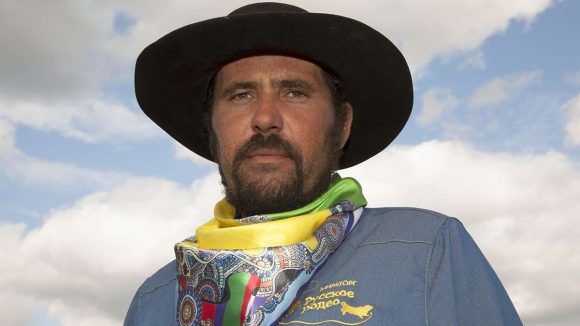 But like almost all businesses, the beef business cannot succeed without skilled workers. So in addition to importing grass and cattle Miratorg has brought over some American cowboys to train the Russian workers who knew nothing about cattle ranching. Today the United States has fewer cattle than it has had at any time since the 1950s, so the job market for cowboys in the United States has thinned significantly. Miratorg has lured American cowboys to come to Russia by offering to double their pay in the United States.
To teach cowboy skills and create a passion for the cowboy way of life Miratorg created its own version of a rodeo. The Russian rodeos are similar to those in the United States. They have events like barrel racing, roping and trailer loading. DJs play patriotic songs that talk about the greatness of Russia. One rodeo song talks about Russia taking Alaska back from the United States. Another proclaims "Give me a horse and a Sword!" Parachutists known as "Aerial Cowboys" float down into the arena. Russian cowboys wear kerchiefs with traditional Russian patterns rather than the classic bandanas worn by American cowboys.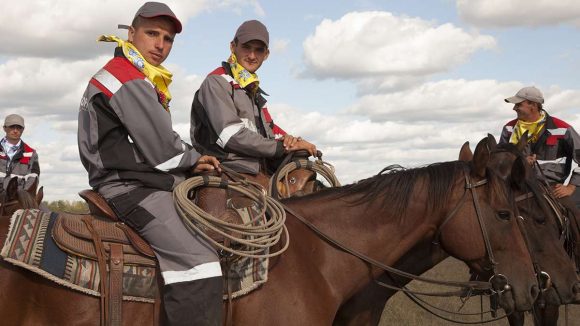 According to the sources for this blog, the Russian cowboys, which the Russians call "operators," have been thriving since the American cowboys were brought in, embracing the cowboy work ethic and becoming experts in skills of the trade such as riding, lassoing and doctoring calves. Sadly, very few of the 1000 or so Russian cowboys have gotten to eat an actual steak. A quality steak costs more than a day's salary for a Russian cowboy.
Question: What's your favorite cut of meat? How do you like it prepared?
Sources for blog: newsworks.org and NPR.org.
Listen to the NPR story: