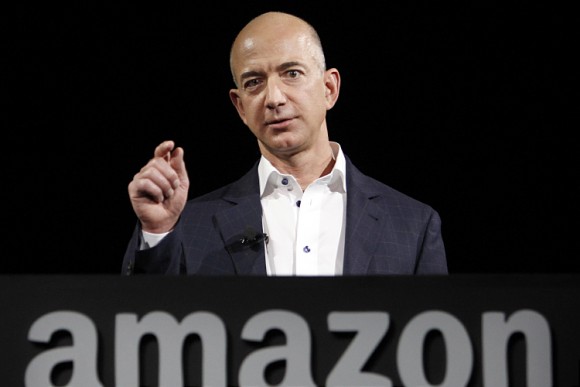 Jeff Bezos, the CEO of Amazon, is one of the most brilliant, innovative entrepreneurs in the world. In just 20 years as head of the company he founded from scratch, he has built the biggest, most efficient online retailer in the world.
And the New York Times just spent thousands of words on the front page hating on him for being a demanding boss.
Bezos is a zealot about his business. You don't become a billionaire after being abandoned by your father as an infant in Albuquerque if you're a pushover. He is absolutely driven and he does not suffer gladly slacker employees who watch the clock. He wants his people to buy into his vision for the company whether they work on the floor at one of the Amazon's 90 fulfillment centers (enormous automated warehouses) or at its corporate office in Seattle as a software engineer or executive.
The company is remarkable in its ambition. Amazon just unveiled one hour delivery in Seattle for an extra charge, and two hour delivery for no extra charge for Amazon Prime members.
The problem the New York Times has, I would argue, is that it is pro union, pro $15 per hour minimum wage, and pro old school retailer like Macy's and Lord and Taylor, who buy full page ads (which Amazon doesn't do). The paper is jealous of Bezos' success and his tough approach.
My question to you readers is, do you care whether Bezos is a warm and fuzzy boss when you order a Toto toilet, an audio book from Audible, or watch The Walking Dead on Amazon Prime video?
It is not a totally dumb question. If a boss is a racist, misogynist or a traitor it definitely would affect my choice to buy a TV from his company. If the boss was a Mafioso or a werewolf I probably would not buy from him, but a hard ass business guy probably does not bother me enough to shun the Charmin. That is my threshold for a national retailer like Amazon. On the other hand, if in person, I saw a manager of a local hardware store berate a poor kid trying to learn a summer job I might buy a screwdriver elsewhere.
Jeff Bezos is a heroic figure to me as an entrepreneur. I think he rocks. I love that he bought the Washington Post for $250 million, which is pocket change for him but probably a real irritant to its competitor The New York Times.
Jeff Bezos, keep the innovations coming. Maybe one day your drones will deliver my pizza. I wish you were a gentleman and a scholar, but if my Nikes from Amazon fit, I'll wear them.
Questions: When making a buying a decision, do you care about the behavior of the company's boss?
Do you judge entrepreneurs solely based their accomplishments?