I am a car guy and, as I do most years, I strolled through the North American International Auto Show which is held in Detroit every January. Unlike the auto shows in smaller cities that are mostly venues for local dealers to whet the appetite of local customers, this show attracts journalists and auto industry types from around the world who come to see the concept cars and advanced technology car makers think we'll want in years to come. Nevertheless, there is plenty of dreaming by the masses, most of whom see cars as personal statements and engines of their independence.
I waded through throngs of everyday folks gawking at cars they might never afford and stood in line to sit behind the wheel of cars I could never afford or justify bringing home even if I could. Like everyone else, I felt the shifter in my hand, touched the controls, and adjusted the seat to exactly how I'd want it. I observed it from every angle as it rotated on its platform, wondering how it would look in my driveway. I imagined how I'd look piloting the big motor version with sport rims and fat tires and what my friends would say about my new ride. I listened to the siren song of the comely model raving about the performance, driving characteristics, and luxury features of this, the latest and greatest, and I saw thousands of others lost in the same revelry. It is the revelry that comes from the chance to have your true identity (or the person you want the world to see) displayed in a mobile package that doesn't care which side of the tracks you come from. It is your personal expression and your independence, limited only by your ability to make the payment.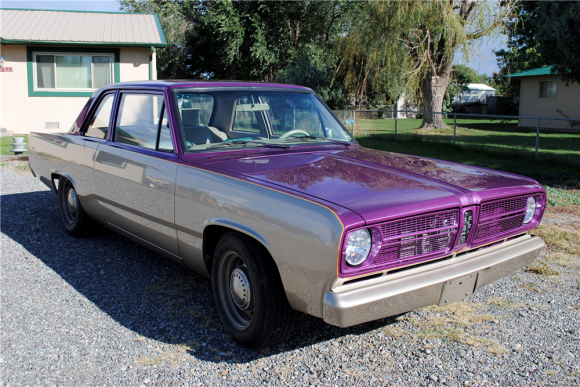 I have always loved cars, but it is not always the big motor or great color that has me smitten. One of my top ten lifetime rides was a 1967 Plymouth Valiant with a Slant-6 motor. I bought it for $90, brush painted it Rust-Oleum brown and slammed that thing around every mountain road I could find when I lived in rural West Virginia. Legend has it that New York cabbies would run a cab with a Slant-6 until the body fell off and then run the motor in another cab until it was toast. Mine never failed, and it was running strong when I sold it for $35 with nearly 200,000 miles on the clock. I knew they were strong; I helped build them when I worked at Chrysler's Mack Avenue stamping plant in Detroit in 1968 churning out 273 Valiant fenders an hour.
As I made my way through the displays of various manufacturers, I saw their homage to the emerging technology of autonomous cars and self-driving technology. Many manufacturers touted their lane following systems that use multiple cameras and proximity sensors so you can comfortably manage your car hands free, at least on major roads. Almost everyone has autonomous braking, and many manufacturers are making it standard equipment, a technology that will undoubtedly reduce rear-enders in stop-and-go traffic. This technology will soon be good enough (and some say it already is) that a driver will be unnecessary. Google and others have millions of crash free driverless miles in the rearview mirror, not that a rearview mirror will be needed. Truck drivers should be worried.
But how will this technology square with cars as a personal statement and driving as pleasure? What do I care about the shifter, the big motor and the sport wheels if cars become something I don't own but merely summon when I need to get to work? Even if I own a self-driving car, will I care if it does not take the scenic route I enjoy every morning? The physical act of driving provides its own autonomy since I, alone, sit behind the wheel in full control and can decide mid-stream to stop for coffee or pin myself to the seat with a burst of delicious power. The conventional wisdom is that self-driving cars will be safer because they don't drink and drive, don't speed, and never fall asleep. They'll communicate by satellite instead of horn and middle finger. Autonomy will undoubtedly bring its own benefits in the form of less road carnage and greater convenience, especially for those who don't like driving in the first place. But will I feel frustrated riding along at 55 mph on a freeway that currently moves at 80? Will I need a special "driver's" license to actually drive a classic sports car made well before seat belts were even required? What if I want to drive it at 80 mph? Will I be dodging legions of driverless mobile pods doing exactly 55? If that happens, I guess I'll never again be able to be absorbed unconditionally in the sweet and immediate moment of the next turn.
It could be comforting to know that the latte slurping motorist applying make-up in the mass of metal next to you is not actually in control. Maybe I'll be able to return some calls without violating Detroit's no cell phone law. But it remains to be seen whether this technology portends the end of the love affair I've had with cars or the beginning of a beautiful, safer relationship with the road.
Question: What is your dream car?
Russell Ethridge is a prominent attorney in the Detroit area and longtime contributor to Today's Machining World.