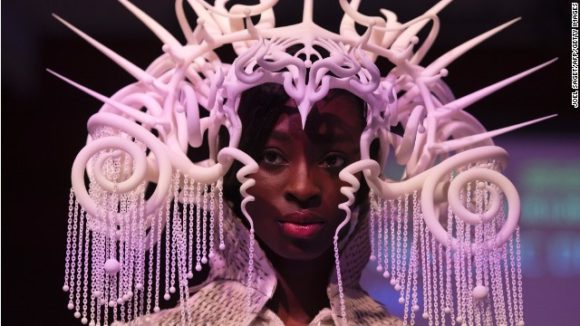 (CNN) — Thanks to 3-D printers, dentists can today print false teeth and medical device manufacturers can print hip replacements.
Such creations are useful, but not exactly sexy. Thankfully, artists are demonstrating another dimension of the technology, printing remarkable creations that wouldn't have been possible even a decade ago.
Take Tobias Klein. The German artist wanted to meld the architecture of St. Paul's Cathedral with representations of his own body.
Approximating the shape and dimensions of your own heart is a challenge, but Klein did not have to guess. He underwent a series of MRI scans, and then, with a few clicks of the mouse, was able to view his own heart in 3-D.
He then merged that with a representation of the dome of St. Paul's and sent the design to a 3-D printer, which deposited material layer by layer to create a solid object.
The result was 'Inversive Embodiment,' a twisting, mind-boggling sculpture that links man-made architecture with the architecture of a man.
"It allows me to move into more eccentric areas," Klein says. "We see a super beautiful influx of people working with the medium. We're just seeing how far this can go."
New possibilities
According to Wohlers Associates, a manufacturing research firm, the market for 3-D printing topped $2 billion in 2012, up nearly 30% from the year before. And while most of the cash comes from manufacturing companies, artists are throwing ever more dollars at 3-D printers and related technologies.
The desire to innovate is driving the trend, as are falling prices and the increased availability of 3-D printers.
Suzy Antoniw organized "3D: Printing the Future", an exhibition running at London's Science Museum until June 15.
"Although 3-D printing as a technology isn't that new, there has been an explosion of creativity around it in recent years," she says. "It gives artists more design freedom and enables them to create amazing things."
Bernat Cuni, one of the artists featured in the exhibition, takes children's drawings and, using computer aided software, blows the images up like balloons. A 3-D printer then produces these so-called 'crayon creatures,' turning scribbles into mini sculptures.
Read more here.
Read more here.