I walked the floor of IMTS two days this week. I saw some impressive machine tools and robots, made some important business contacts, ate at Connie's Pizza twice and saw a lot of sports cars in booths that seemed to be placed there for no reason. Was IMTS 2014 a productive show for me? Yes, but much of the flavor — the FUN that for decades defined IMTS — has been stripped away like steel scale passing through a Cincinnati centerless.
This year's IMTS booth budgeters must have not realized that it is not 2010. The time of austerity in the manufacturing world has ended. Manufacturers are not just going lean, they are fattening up on expensive high-tech equipment. They are paying high wages for skilled people.
So why were there virtually no giveaway items at the IMTS booths this year, and where were the booth babes? Where were the spectacles, the parties, the memories? It's not because of money struggles. I was told that DMG MORI spent almost $14 million on its booth this year, and judging by the size of some other booths, I know they shelled out as well.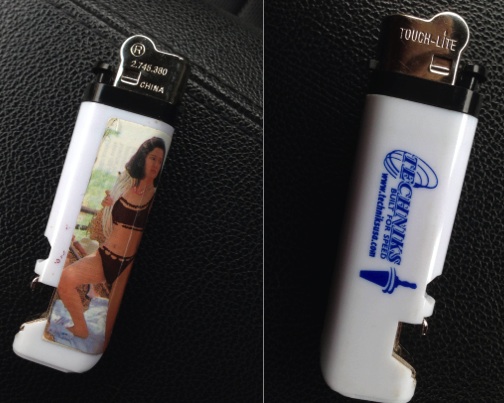 My IMTS plunder was pathetic this year. There were the usual free bags handed out by some of the big companies like Doosan, Haas, and Sandvik, but I received virtually nothing noteworthy to put in my bag. Nobody was passing out anything fun or useful. Usually the best free thing I could hope for was a bowl of candy or mints on a table — who cares. It's not like the good old days. In my office at Graff-Pinkert we still have a little bell that National Acme produced on a multi-spindle at IMTS 40 years ago. A while back, INDEX produced an entire metal chess set in a live demonstration at IMTS and gave away the pieces to attendees. At IMTS 2012, Doosan passed out cool blue soccer balls with their logo. Four years ago, Techniks, historically one of my favorite IMTS booths, passed out lighters with women in bathing suits on them whose clothes disappeared when you put a flame on them from another lighter. The lighters also contained a bottle opener. Now those were useful! I still have mine to this day, and it reminds me of fond memories at IMTS and the Techniks booth. I'm sure there are many other people around the world just like me who cherish the lighters they received from Techniks and think about the company all the time when they use them in their office, car or home. This year I received no blue soccer balls, monogrammed baseballs, super balls — balls of any kind for that matter. I got no bells, no whistles, keychains, or frisbees, not even measly pens! A few booths gave me thumb drives holding their company info, and I guess I can use them to hold my own data. They are a useful take home, but still boring and provide no sweet associations with a company or IMTS on the whole.
IMTS 2014 also must have set an all-time show low in the quantity of booth babes. I know, writing this paragraph likely will brand me as a sexist, but I am of the opinion that amidst of the stress and strain of networking and walking the colossal McCormick Place in a show where I estimate 98 percent of attendees are men, wouldn't a little eye candy be an innocent perk? Why can't all the cold expensive iron be surrounded by a little beauty? Booth babes are an IMTS tradition and I felt deprived this week. Doosan, Haas, DMG MORI, ISCAR, they had a few pretty faces, but I noticed no woman at the show who lured me into a booth just because I had to get a better look.
But more troubling than missing girls and giveaways, what really got me down at IMTS 2014 was the absence of showmanship.
At the first IMTS I attended in 2006, Walter USA brought in two live tigers! In 2014, the same booth had a measly computer screen with a tiger animation. Techniks that year featured a breathtaking Russian hulahooper contortionist. She could hula 100 metal hulahoops up and down her body while she bent herself into seemingly impossible positions, all choreographed to classical music. Sandvik's booth used to be great. They used to have huge ice sculptures, and featured a bar made entirely of ice, serving drinks in "glasses" that were entirely composed of ice! The ice theme correlated with a promotional offer to stay at the famous Ice Hotel in Sweden. In 2008, even little old Today's Machining World hired the Chicago Tin Man, a silver human statue who could breakdance. In 2014 — no tigers, no ice, no hulahoopers — tragedy.
In my observation of IMTS 2014, the shared booths of ISCAR and Ingersoll was the only exhibit that kept alive the tradition of IMTS showmanship. The two companies (of same ownership) installed a large round table surrounded by at least 50 seats, where people drank free beer and other beverages served by attractive waitresses. The booth felt like a party! Pop music played loudly, attractive women danced on the table (although poorly I'm sorry to say), and every so often three lovely female violinists came on stage, playing classical music. The booth was the place to be. It was an oasis from the seriousness of the show, a bright spot, the place a show attendee needed to go to at least once.
The budgeters and planners for the majority of boring booths at IMTS 2014 probably would say that my thoughts are shallow. My critics will say that people come to the show to see the the new products that will help their businesses — not to enjoy sex objects, sideshows, and tchotchkes. They will say, "why have the extra stuff, even if it is fun, if it doesn't lead to sales?" But that claim is wrong. Those fun things do help companies obtain customers, and they make people want to come to IMTS.
I think of the products exhibited at IMTS as cakes. Fun and showmanship are icing. Cakes can be tasty on their own, but usually they are significantly better with good icing. Icing makes a cake memorable. Icing makes us choose to go to the ISCAR booth rather than one of a similar cutting tool maker. When it is time for a buyer from a manufacturing company to decide where to buy cutting tools, which company does he have a fond memory of, which company's booth did he spend time in, in which company's booth did he take a photo of himself? I know that being creative and having fun still matters when selling products. I'm grateful for that.
Question: What is the most memorable booth you have seen at a trade show?