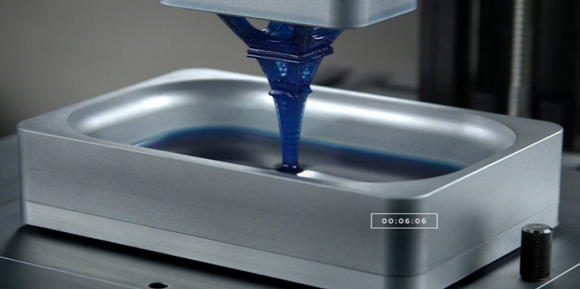 Assorted thoughts while waiting for the Sweet 16 to unfold.
In our business world, 3D printing is the technology the lathe and mill guys pooh-pooh, but we should not be so complacent. The latest refinement substitutes layer by layer printing with a liquidy glop that is potentially much faster. The day is coming when shops will have both additive and machining technologies available and will offer the best option to a client. This will also be a tremendous marketing approach – offering both.
******
I wish I've seen a team that could beat Kentucky in the first two rounds, but I have not. I'm rooting for Wisconsin, but they do not have enough athleticism to beat the Caliparians. Kentucky's depth and brute athleticism trumps Duke's fabulous shooting. Gonzaga just isn't quite good enough either in the front court or backcourt. Michigan State is peaking and probably makes the Final Four, but they do not shoot well enough to beat Kentucky. What people do not realize about Kentucky is that they play well together and they are young, but not that young. The Harrison twins are sophomores and play with maturity and total confidence. Willie Cawley-Stein is an upperclassman who plays with wild animal ferocity. He scares me – even on TV. I wish I could say it ain't so, but Kentucky in a walk.
******
The data shows that American business is not investing in heavy duty capital equipment with a 15 year or more usable life. On the face of it this sounds like very disturbing news in the machining world, but I think we need to understand this statistic in context. Consider electric utilities. Utility companies used to build new plants every year or two. Same with oil refineries. Competition and environmental hounding have forced companies to get more efficient rather than build more plants and add more turbines.
Think about how you can produce more with less today. Capital gravitates to where it is more productive. Monster factories are rare today. If battery technology progresses the way Elon Musk and others think it will, we will be moth-balling oil refineries and traditional electric generating facilities, not building more.
******
March 24 was the day the Iran nuclear talks were supposed to end. I expect they will grind on as the Persians continue to play the Obama administration for the fool. If there is a deal, it is highly unlikely to be ratified by Congress. For Iran, it's heads we win, tails we win. The Saudis and the shale drillers are playing the best card against the Ayatollahs by depressing crude oil prices.
******
I applaud Howard Schultz, Chairman of Starbucks, for attempting to initiate discussions about race relations in his cafes. The Starbucks I frequent in Homewood, Illinois, has 60-40 black to white clientele. Through the years I have made black friends there and had many great conversations with people who have darker skin than mine. I have written about struggling with my own racism in other columns, but I have used Starbucks as a safe haven for talking race. Starbucks is America's meeting place. Thank you, Mr. Schultz.
Questions:
Do you think you will use 3D printing in your shop anytime soon?
Who do you like in the NCAA Tournament?
Carbon3D's Printer Printing an Eiffel Tower with Continuous Liquid Interface Production technology (CLIP)