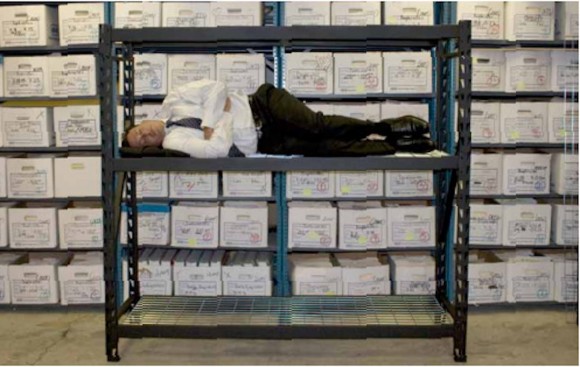 Mitch Liss of Edsal Manufacturing, who I interviewed at length for TMW five years ago, is moving his shelving manufacturing company out of Chicago to beautiful Gary, Indiana. I was shocked when I saw the announcement because Liss is a lifelong Chicagoan, whose employees came largely from the city. But Gary provided incentives. Chicago taxes were brutal, and Liss needed room for expansion, which Chicago made prohibitively expensive. If you hit business people in the nose long enough they will eventually walk out of the ring.
******
I spent a lot of time at the recent Columbus PMTS Show talking to people who have assorted Swiss-type CNC lathes. It struck me that allegiances to each manufacturer were surprisingly fragile and fluid. Star users were switching to Citizen, Citizen fans switching to Tsugami, Swisstek getting into Tornos houses, etc.
Loyalty was tissue thin. Usually the brand switching was not because of sweet deals by a competitor, but because of irritation over the old brand's service. The friendly, efficient, knowledgeable service person who showed up on time and finished the job quickly was the reason to stick with a manufacturer. Repeated repair snafus killed relationships over time.
******
The Mayweather Pacquiao story just gets worse and worse. It evidently was a boring fight for those who paid $100 for the privilege of watching two aged boxers jab each other for 12 rounds. But now we learn that Manny had a damaged rotator cuff that he neglected to report. Oh, the power of a $120 million guarantee. Pacquiao has already had surgery. Anybody want to watch the re-match?
******
The candidates just keep on coming for the Republican primary race for president. Carly Fiorina just announced. She evidently thinks her business credentials as the head of Lucent and then Hewlett-Packard will propel her to prominence. Lucent stock dropped to $2 a share with her brilliant moves. At H-P she paid a fortune for Compaq Computer, which nearly wrecked the giant firm. Well, she has not committed a felony or inhaled, as far as we know, so I guess she's a legit candidate for now.
******
California communities are faced with very hard decisions to make about the drought that has hit over the last few years. Weather patterns change. El Niño could switch quickly to La Niña, which could end the drought. Big snows later this year in the mountains could quickly rebuild the local water supply. The Greens are trying to capitalize on the dry conditions by proclaiming it a manmade event.
Some communities like Carlsbad, California, just north of San Diego, have decided to build desalinization plants. The one in Carlsbad will cost $1 billion. It may be money well spent, but 20 years ago Santa Barbara, California, spent a few hundred million to build one and then mothballed it a couple years later when the rain and snow came back. It could happen again. Water conservation, including holding back water from the enormous almond groves that were planted when the almond milk craze hit several years ago, might make more sense than huge capital investments in desalinization right now. I remember when Lake Michigan was going to go dry. Now it's overflowing.
(Click here to read the interview from 2010 with Mitch Liss)
Question: Do you feel loyalty to your machine tool brands?