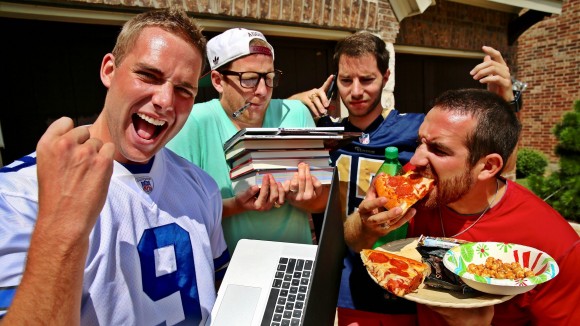 The National Football League is two weeks into its season and New England and Green Bay look very strong because they have great quarterbacks in Tom Brady and Aaron Rogers. Who will win the Super Bowl? I have no idea, but the biggest winners may be the owners of the massive Fantasy Football sites that blanket ESPN and Fox with ads, FanDuel.com, and DraftKings.com. Those internet sites have taken in a ton of venture capital money and sold pieces to ESPN and Comcast to fund their enormous advertising campaigns. With approximately 35 million people playing and the sites taking a piece of the action for handling the data and transferring  money, it sounds like a lot better business than turning metal. Both sites are valued at more than $1 billion.
It is changing the way fans look at the games. No longer is the primary question, "did the Steelers or Lions win the game," but "how many touchdowns did Roethlisberger pass for," or "how many catches did Calvin Johnson make?" The stats are everything. Who won? Who cares …
********
Hilary Clinton coming out against building the Keystone XL Pipeline now only makes her look weaker and phonier.  With oil at $45 a barrel building the pipeline into the U.S. for tar sands crude had become a non-issue. With fracking starting to go down but loads more oil to drill in the Dakotas, Texas, Pennsylvania etc., Keystone has long since left the front pages. If she had come out one way or the other three years ago on Keystone she could have been seen as a leader. Doing it today she looks like a total wimp. I did not think she could blow the Democratic nomination, but today it looks better than 50-50. Joe Biden or Bernie Sanders could beat her.
********
Don Pellmann ran the 100 yard dash in 27 seconds. Sounds pretty slow. Not really. Pellmann is 100 years old. He just competed in the San Diego Senior Olympics. That time set a record for the 100-and-over age group. He also set records in the discus, shot put and high jump.
His disappointment was in not making height in the pole vault.
Pellmann retired from his job at a General Electric subsidiary in 1970. He was a gymnast in college and has stayed active. But he is not a health nut. He doesn't take vitamins or supplements and prepared for the competition by eating macaroni and cheese the night before.
********
Kudos to Janet Yellen and the Federal Reserve for not raising interest rates at the last Fed meeting.
China's economic problems, the depression in virtually all commodities, and the spreading industrial malaise from $45 a barrel oil, is dragging down the U.S. economy more than most people think. An interest rate boost now could have greased the way into a recession. Good call, Ms. Yellen.
********
What an amazing baseball season this has been for me. The Cubs rebuilding process has worked amazingly well. They were so bad for so long that they got top draft picks and used the picks wisely to get great young hitters. They traded for more talent, stealing Addison Russell from Oakland and Kyle Hendricks from Texas. The biggest coup was trading Scott Feldman to Baltimore for Pedro Strop and Jake Arrieta. Arrieta is taking his place as one of the great pitchers in the game and should win 20 games this year.
The final step was hiring Joe Madden as Manager. Madden had become a free agent through a clause in his contract. The Cubs had to act in three days to take advantage of the opening, which they did to the anger and dismay of Tampa Bay's ownership. It was the best move of all.
Go Cubs Go.
Question: Do you play Fantasy Football? If so, how much time do you spend on it in a week?