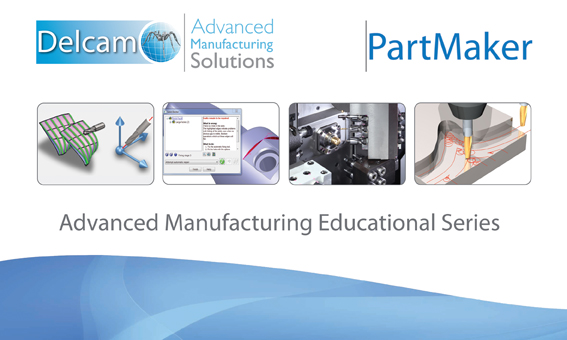 Fort Washington, PA – Starting in May 2013, PartMaker Inc., a division of Delcam Plc, has launched a new, monthly webinar series for manufacturing professionals focusing a number of advanced manufacturing techniques. Each webinar will focus on an important area of education in advanced manufacturing. Each webinar will be conducted by a member of the PartMaker applications team with extensive knowledge and hands-on experience in advanced manufacturing principals and methodologies.
The idea behind this webinar series is to educate manufacturing professionals on some of the technological trends in CNC machining which allow manufacturers to make parts more productively. This webinar series will be purely educational in nature and is not intended to promote any particular PartMaker application or other technology vendor. The goal of this webinar series is to provide the manufacturing community and on-demand resource to learn about the latest trends in the industry and perhaps provide individuals a forum to pose the questions they were always afraid to ask. The Advanced Manufacturing Educational series webinars an always be found at http://www.partmaker.com/webinars/.
"The CNC machining industry is at a real crossroads," says Delcam's PartMaker Inc. Division President Hanan Fishman. "Even while the employment market continues to struggle, our customers are finding it difficult to find the individuals with the knowledge and experience to take advantage of today cutting edge manufacturing technology. A big part of the reason for this is because neither our primary nor higher education systems has made a commitment to teaching advanced manufacturing principles. We have a number of excellent vocational schools with committed instructors teaching the basics of machining and a number of colleges and universities doing an outstanding job developing the engineers of tomorrow, but instruction in advanced manufacturing principals seems to be falling through cracks of our traditional educational system."
"With this new educational webinar series it is our intent to help bring more awareness of advanced manufacturing methods to our industry, so CNC manufacturers can remain more competitive and take better advantage of the latest manufacturing technology available to them."
More on PartMaker
PartMaker is a Knowledge Based Machining system, allowing it to provide a substantial gain in programming efficiency by remembering the tools, material and process information necessary to machine individual part features. It thus relieves the user from reentering the same features information for subsequent parts. It also improves productivity by placing the emphasis on tool management functions.
PartMaker pioneered the field of CAM software for Turn-Mills and Swiss-type lathes with its patented Visual Programming Approach for programming multi-axis lathes with live tooling. It assures quicker learning and easier use. It makes an extensive use of pictures to help the user describe tools, part features and machining data. Synchronization of tools working on multiple spindles is achieved by a few mouse clicks.
PartMaker Inc. is a subsidiary of Delcam Plc, the world's leading developer and supplier of complete CAD/CAM software solutions. Delcam Plc is publicly traded on the AIM exchange in London. While PartMaker is sold direct in North America by PartMaker Inc. PartMaker is sold overseas through a network of sales partner offices operating in over 120 countries.