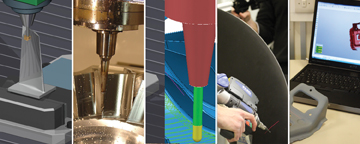 Delcam will demonstrate the 2013 releases of its Complete CADCAM software for the design, manufacturing and inspection of aerospace and defense parts at SME'S AERODEF MANUFACTURING CONFERENCE, held at the Long Beach (CA) Convention Center March 19th – 21st 2013.  New releases include significant enhancements to enable users to increase productivity, reduce lead times and improve quality.
With its unique combination of solid modeling, surface modeling, direct modeling and triangle editing capabilities, PowerSHAPE provides the most comprehensive range of design and reverse engineering techniques available in a single CAD program. Having all the different technologies in the same package reduces the need to transfer data between multiple programs and so streamlines the whole product-development process.
PowerSHAPE also includes the Solid Doctor, a comprehensive set of tools for the repair of CAD models from all sources, including IGES, STEP and native CATIA and Creo files. It can be used to tackle all the common problems that are found when translating low-precision and incomplete data, including gaps and overlaps between surfaces, or duplicated and missing surfaces, and generate a valid, high-precision solid model.
The most recent addition to PowerSHAPE is a range of direct modeling functionality that will speed up and simplify concept development, and enable tooling designers to tackle all the major challenges that they find in product designs, such as insufficient draft or inappropriate fillet sizes. These new options have been made as accessible as possible by enhancing existing commands rather than grouping them in a separate area of the software.
The new technology developed by Delcam called Vortex (due to be released in PowerMILL 2013 and then later in FeatureCAM) is the latest in area clearance. This new technology has been developed specifically to gain the maximum benefit from solid carbide tooling, in particular those designs that can give deeper cuts by using the full flute length as the cutting surface. It can be used for two- and three-axis roughing, three-plus-two-axis area clearance and for rest machining based on stock models or reference toolpaths.
Because Vortex toolpaths have a controlled engagement angle, tools will never be overloaded and so will achieve the maximum tool life. Shock loading caused by changes in the contact angle is minimized, preventing chipping of the flutes. In addition, the stability of the cutting conditions gives more consistent edge temperatures, so prolonging the life of the tool coating and removing heat damage to the surface of the part.
For inspection, a new module is available that allows PowerINSPECT to create efficient inspection sequences for use on dual-column CNC coordinate-measuring machines. This addition continues the drive to make PowerINSPECT the preferred inspection software for all types of metrology equipment.
The combination of a dual-column CMM and PowerINSPECT enables inspection times to be reduced by allowing the simultaneous measurement of different features on larger parts. A common application is aerospace  inspection, where the evaluation of a large, complex and relatively symmetrical assembly requires intricate measurements on each side, combined with an assessment of the structure as a whole. Using this new module gives the ability to measure parts on these devices in a single coordinate system without repositioning.
The new release also continues the development of the reverse engineering functionality introduced earlier this year. The main development in this area has been an expansion of the "Digitized Curves" option to create a powerful re-engineering and modeling tool.
The automated section-measurement functionality, which was previously only available in the manual version of PowerINSPECT, is now available in both the OMV and CNC offline-programming versions. This strategy for creating probe paths along a section of the component provides quick and easy comparison of a cross-section against the CAD model. This type of section measurement is important for the measurement of blades and aerofoils.
AeroDef Manufacturing is the leading exposition and technical conference for the aerospace and defense manufacturing industry. Produced by the Society of Manufacturing Engineers (SME), in partnership with industry OEMs, AeroDef showcases the industry's most advanced technologies across an innovative floor plan designed to facilitate interaction and business relationships between exhibitors and buyers looking for integrated solutions. Keynote speakers and panelists come from the highest level of government and business. They come to share their vision of the potential of technology, collaboration and public policy to transform manufacturing – concepts that attendees can actually experience on the exposition floor and in our in-depth conference sessions. It's the one event that brings together high-concept, integrated solutions and real-world applications.
If you have a stake in aerospace and defense manufacturing, you can't afford to miss AeroDef Manufacturing. Join us on March 19-21, 2013, at the Long Beach (CA) Convention Center.
Event Hours –
March 19, 2013 9:00 am – 4:00 pm
March 20, 2013 9:00 am – 4:00 pm
March 21, 2013 9:00 am – 3:00 pm