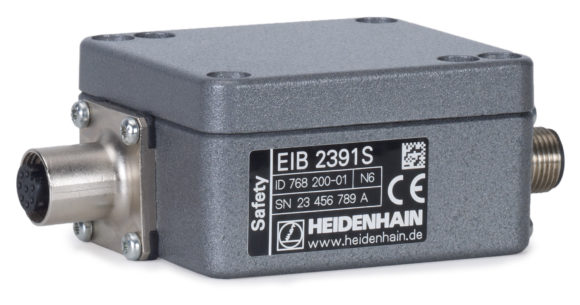 SCHAUMBURG, IL (January 2013) – In an effort to increase encoder compatibility with Seimens controls, HEIDENHAIN has developed the EIB 2391S interface box. Ideal for applications with SINAMICS drive components, the EIB 2391S enhances the serial interface offering for many of HEIDENHAIN's absolute encoders.  HEIDENHAIN's interface electronics have been noted as the best in the industry for safely transmitting and converting analog and digital encoder output signals.
The EIB 2391S makes it possible to convert a HEIDENHAIN encoder's output signal from EnDat 2.2 to DRIVE CLiQ.  With IP 65 and its compact size, the EIB 2391S is suitable for any industrial environment. HEIDENHAIN's EIB 2391S 8-pin M12 connection allows the user to pull the cable needed to connect to the interface electronics box through even the smallest locations. Due to the benefits of EnDat 2.2, the EIB 2391S is capable of transmitting diagnostic information into a format recognized by the SINAMICS drive components. Increasing demand for safer machine tool operation, HEIDENHAIN's EIB 2391S was developed to be used in safety-oriented applications.
For more information, contact HEIDENHAIN PR Manager Kathleen Stoneski at (888) 488-3113, or write to us at HEIDENHAIN CORPORATION, 333 E. State Parkway, Schaumburg, IL  60173.  HEIDENHAIN can also be accessed directly via our web site at www.heidenhain.us.
HEIDENHAIN CORPORATION is the North American subsidiary of DR. JOHANNES HEIDENHAIN GmbH, a leading international manufacturer of precision measurement and control equipment.  Our product line includes linear scales, rotary and angular encoders, digital readouts, digital length gages, CNC controls, and machine inspection equipment.