PartMaker's new 4 and 5-axis simultaneous milling capability will be demonstrated at the south east's leading machine tool show.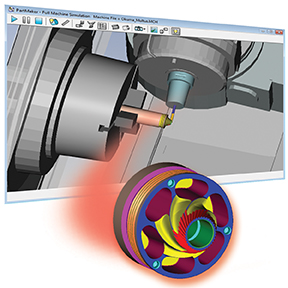 Fort Washington, PA – PartMaker Inc., a division of Delcam Plc, will be demonstrating the latest version of its PartMaker suite of CAM software at South-tec 2013 in Greenville, South Carolina October 29 – 31, 2013. PartMaker will be on display in the booth of its parent company, Delcam Plc, booth number 319. The new 4 and 5 axis simultaneous milling functionality in PartMaker Version 2013 R2 applies across the entire PartMaker CAM suite, including the PartMaker Mill, Turn-Mill and SwissCAM modules.  The new 4 and 5 axis milling product functionality is known as ASM-MX, or Advanced Surface Machining – Multi-Axis. In addition to providing unique 4 and 5 axis simultaneous milling functionality, ASM-MX has also been priced cost effectively relative to other high-end milling CAM systems on the market. One the hallmarks of PartMaker ASM-MX, like other Delcam CAM systems such as PowerMILL, is that all the machining algorithms underlying the software are developed in-house, by Delcam's industry-largest CAM development team, not licensed from a third party developer. This approach assures the users of Delcam's PartMaker that they are getting unique functionality that will allow them to stay ahead of the competition.
The new 4 and 5 axis simultaneous milling strategies found in ASM-MX in PartMaker Version 2013R2 are based on the same unique approach to multi-axis programming used in Delcam's PowerMILL, Delcam's industry leading CAM system for the manufacture of complex shapes.  ASM-MX provides the user complete tool-axis control for all 5-axis simultaneous machining strategies. Additionally, ASM-MX features a totally unique new machining strategy called "Spine Finishing."  Spine finishing can be used in either 4 or 5 axis simultaneous operations and is ideal for machining parts with unique curves such as angulated abutments found in the dental implant industry.
"The new functionality in PartMaker that will be on display at South-tec lets users harness the power of highly sophisticated 4 and 5 axis simultaneous milling in an intuitive and practical yet highly sophisticated and elegant manner," says PartMaker Inc. division President Hanan Fishman.  "Advanced surface machining practices are becoming more and more common in production machining environments. This trend is growing in popularity particularly among those working in the aerospace and automotive fields, which are very strong in the South Eastern United States."
More on PartMaker
PartMaker is a Knowledge Based Machining system, allowing it to provide a substantial gain in programming efficiency by remembering the tools, material and process information necessary to machine individual part features.  It thus relieves the user from reentering the same features information for subsequent parts.  It also improves productivity by placing the emphasis on tool management functions.
PartMaker pioneered the field of CAM software for Turn-Mills and Swiss-type lathes with its patented Visual Programming Approach for programming multi-axis lathes with live tooling. It assures quicker learning and easier use. It makes an extensive use of pictures to help the user describe tools, part features and machining data.  Synchronization of tools working on multiple spindles is achieved by a few mouse clicks.
PartMaker Inc. is a subsidiary of Delcam Plc, the world's leading developer and supplier of complete CAD/CAM software solutions.  Delcam Plc is publicly traded on the AIM exchange in London.  In North America PartMaker is sold directly by PartMaker Inc. PartMaker is sold overseas through a network of sales partner offices operating in over 120 countries.