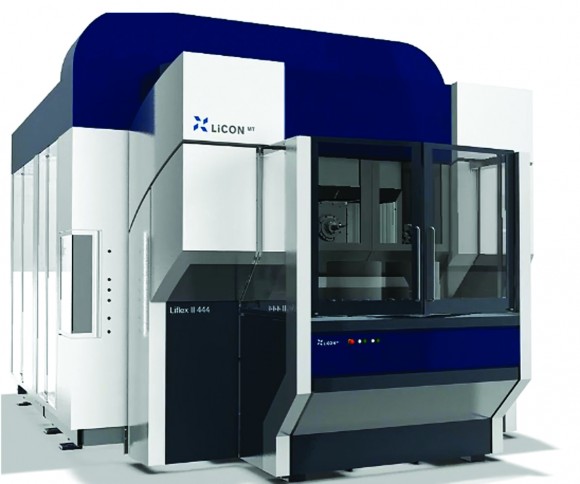 ST. LOUIS, MO – Hydromat is proud to announce that they will feature the Licon LiFLEX II 444 in their booth, #S-8348, at IMTS 2014. With this twin-spindle machining center, German machine manufacturer Licon mt is appealing to new markets and target groups for the processing of small and medium-sized workpieces, a perfect fit for expanding upon the Hydromat machine platforms at IMTS.
Licon mt's product portfolio includes a range of model types that meet different requirements for machining workpieces of different material types, workpiece sizes, and varying degrees of flexibility and productivity.  The LiFLEX II 444 was added to the line last year and represents a new machine model for processing smaller and medium-sized components up to 445 mm in size. This machine is perfectly suited for heavy machining due to the rigid and compact design in combination with the high power/torque available. By expanding its product portfolio with the new LiFLEX II 444, Licon mt is consistently pursuing its strategy for 5-axis complete machining on complex workpieces in a single clamping.
The integration of a pallet-changer facilitates simultaneous loading and unloading of workpieces. Options include spindle compensation for the Z-axis and broken tool detection. The zero point clamping system ensures a quick changeover to other workpieces. Chip removal is optimized through suspended fixtures. LiFLEX II 444 is smaller and more compact when compared with other LiFLEX machining centers. The good price-performance ratio is very attractive to the market.
Winfried Benz, Managing Director of Licon mt, explains its market orientation: "With our small twin-spindle machine, LiFLEX II 444, we are able to offer companies around the world a viable alternative for machining medium-sized parts in small or medium volumes. We aim to continually optimize the process of complex workpiece machining with the goal of minimizing costs for scrap a as well as additional quality controls. To this end, complete machining is an essential element. The price-performance ratio of LiFLEX II 444 makes a further contribution to ensuring that unit costs are reduced to the bare minimum."
This year, an international jury of experts has presented the "iF design award" for exceptional design to Licon mt, winning the coveted trophy in silver in the "Product" category for its expanded twin-spindle machining center LiFLEX II 444. The jury of 49 international design specialists adjudicated over 4,615 products, methods of communication and packaging from 55 countries entered in a range of categories in January this year. 
Licon mt is a highly regarded supplier of production line systems for the processing of complex components. Our customers are well-known automotive manufacturers and sub-suppliers in America, Asia and Europe. In addition to machine product development, our expertise extends to manufacturing its own machine components as well as system integration and software development. With headquarters in Laupheim, Germany, and subsidiaries in Michigan, USA and Beijing, China, Licon mt has more than 200 employees around the world.
Hydromat, Inc., is the industry leader in the manufacture and assembly of precision transfer machines — Rotary, Inline, and Trunnion models, the revolutionary AT Advanced Technology machines, as well as the ICON line of mill/turn productivity centers  — and has a reputation built on a commitment to product quality, customer service and technological innovation.
Sales Contact: Mr. Matthias Walter
Chief Sales Officer
Hydromat, Inc.
11600 Adie Road
St. Louis, MO  63043
Phone: 314.432.4644
Fax: 314.432.7552
For more information, visit our website: www.hydromat.com