ODENSE, Denmark—May 31, 2023: Less than a decade ago, the idea of fully autonomous mobile robots (AMRs) interacting seamlessly with human employees in warehouses and production facilities seemed a futuristic vision. Today, thousands of AMRs from Mobile Industrial Robots (MiR) deliver parts, transport finished products, and handle multiple other logistics tasks without the need for human operators, separate work areas, or external guidance.
This is only the beginning of what is projected to be multi-decade growth, with analysts expecting the AMR market to have double-digit growth every year through at least 2027.
"MiR was one of the early movers in the AMR industry and was visionary in developing a scalable platform of robots that could be easily deployed and integrated into factories and warehouses," said Ash Sharma, managing director at Interact Analysis. "It continues to innovate and has helped the industry to grow from a fledgling industry to what is now a multi-billion-dollar sector with AMRs deployed in thousands of buildings around the world."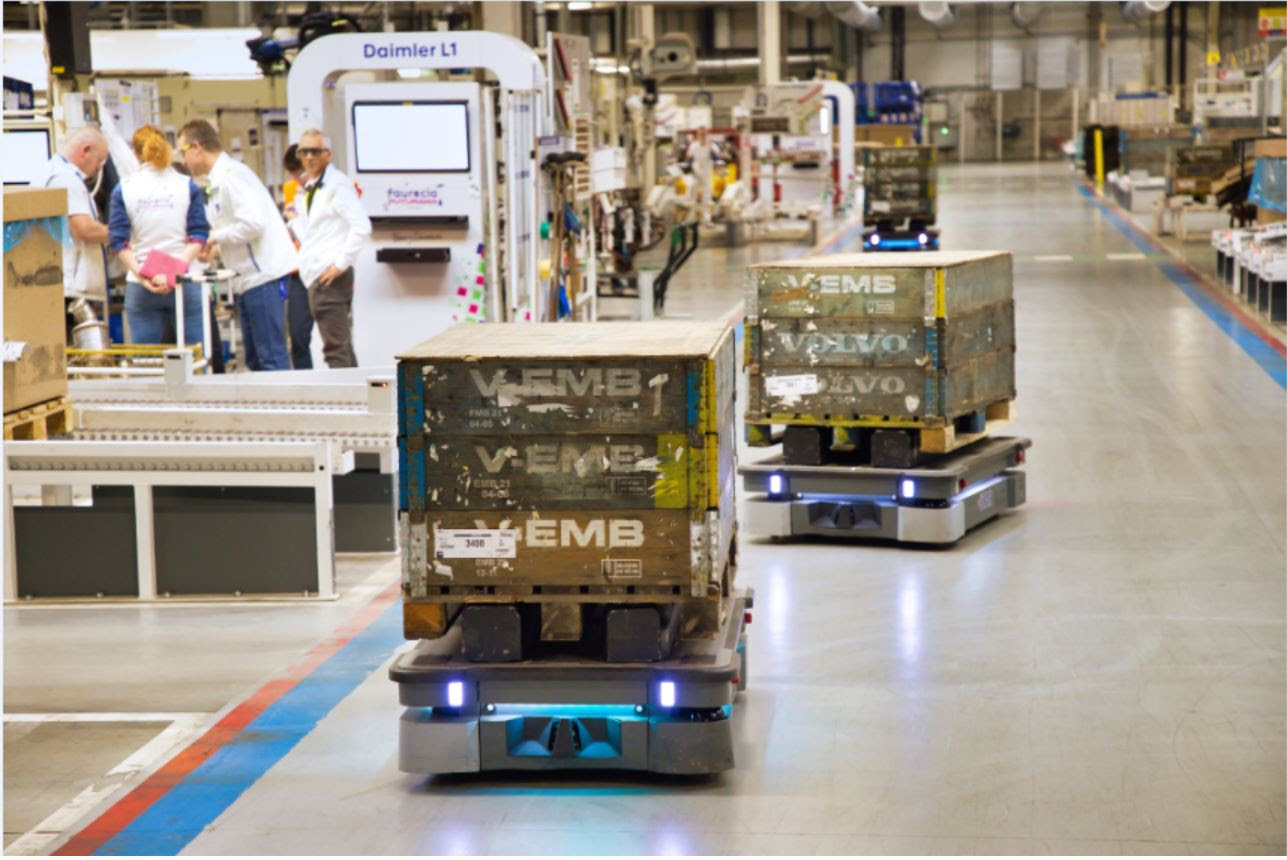 In May 2013, MiR founder Niels Jul Jacobsen set out to revolutionize
the way companies handle their internal logistics. Since then, the
company has helped the industry grow into what analysts call
"a multi-billion-dollar sector with AMRs deployed in thousands of
buildings around the world."
MiR President Jean-Pierre Hathout sees customers now transitioning from using AMRs in pilots to using AMRs 24×7 in production applications and MiR is leading that transition. "In the first 10 years of MiR's history, we led the industry with innovative AMRs as we scaled globally with our customers," Hathout said. "I couldn't be more excited about the next 10 years as we build on that innovation to provide a full range of AMR solutions on common software for our global customers.  MiR has the proven products, the experience and support structure to help our customers scale; and as a part of Teradyne, we are a trusted long-term supplier for mission-critical production applications."
Founded with global ambitions
In May 2013, MiR founder Niels Jul Jacobsen set out to revolutionize the way companies handle their internal logistics. Thomas Visti joined him in late 2014. Both had extensive experience from another successful robotics company, Universal Robots, providing them with valuable market insights and a clear strategy for taking the company from scratch to a world-leading success in only a few short years.
In the early years, Visti was on the road with a MiR100 robot in the back of his car, giving demos to distribution partners and prospective customers. From the very beginning, however, MiR focused on a global market approach based on sales and service via distributors and a focused product range. Today, MiR robots are sold by more than 220 distributors and certified system integrators in 60 countries. In addition to its headquarters in Odense, Denmark, MiR has regional offices in Boston; Holbrook, New York; San Diego; Chelmsford, Massachusetts; Georgetown, Kentucky; Singapore; Frankfurt; Barcelona; Yokohama; Seoul, and Shanghai.
An unbroken growth trajectory
In April 2018, US-based Teradyne, Inc. (NYSE:TER) acquired MiR, further accelerating the company's position as a global market leader and providing the financial strength and stability for sustained growth. From just three employees at the start of 2015, MiR currently employs more than 420 people globally, with an annual turnover of $77 million (USD) in 2022.
Large multinational companies, including Toyota, Ikea, Novo Nordisk, Denso, DHL and Schneider Electric, account for a majority of MiR's sales. A merger with AutoGuide Mobile Robots in 2022 added high payload AMRs, furthering MiRs strategy of being a trusted supplier of a full range of AMRs to our global customers.
A strategic focus on software development
In addition to continuously developing new AMR models, MiR recently launched a new cloud-based software tool that enables fleet owners to manage and optimize the operations of its robots by gaining actionable insights to improve the robots' deployment.
"As robot fleets grow, so does the demand for software tools to optimize performance and manage full fleets," Hathout added. "If we want AMRs to be as common as forklifts and pallet lifters, it is essential that we lower the barriers for implementation, reprogramming and maintenance. We have already made substantial progress in this direction, and I firmly believe we have only glimpsed the true potential of automated logistic solutions."
**
About Mobile Industrial Robots (MiR)
MiR develops and manufactures one of the industry's most advanced range of autonomous mobile robots (AMRs), which can quickly, easily, and cost-effectively automate internal logistics and optimize material handling. MiR offers one of the most advanced fleets of mobile robots used by both large enterprises and small and medium customers in a range of industries from manufacturing to logistics to healthcare. Founded in Denmark in 2013, MiR has grown to become a global leader with nearly 220 distributors and certified system integrators in 60 countries. MiR was acquired by Teradyne in 2018, and in 2022, Teradyne combined AutoGuide Mobile Robots with MiR to deliver a broad AMR product line from low to heavy payload. MiR's headquarters is in Odense, Denmark, with regional offices in Holbrook, NY, San Diego, CA, North Reading, MA, Georgetown, KY, Singapore, Frankfurt, Barcelona, Yokohama, Seoul and Shanghai.
For more information, visit www.mobile-industrial-robots.com
Company contact details:     
Maike Vidjeskog
Mobile Industrial Robots Americas
631-559-4351