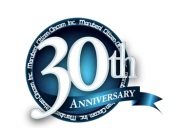 Marubeni Citizen-Cincom is proud to announce its next level in the Cincom L Series Innovation lineup, the L20 Type XII. With all new B-axis controllable rotary tools, simultaneous complex machining has never been more accessible. This additional axis of control allows drilling and milling of angled features and contours without retooling or resetting, with a total range of 135°, from 90° to -45°. This allows the rotary tools to be used for both front and back machining. The Type XII also offers the flexibility of operating with or without the guide bushing. Install the guide bushing when machining long thin work pieces and remove it again for machining shorter pieces or when short bar remnants are required. Other upgrades for this generation include:
• increased spindle through-hole diameter from 24mm to 26mm
• faster spindle speed of the gang rotary tools from 5000rpm up to 6000rpm
• faster spindle speed of back tool post rotary tools from 5000rpm up to 7500rpm
• increased gang tool post from 25 to 26 tools, raising the total possible tools from 39 to 40
• decreased power consumption from 8kVA to 7.3kVA
The most exciting part of this launch announcement is that many of these great innovations come standard on the L20 type XII.
The new L20 type XII will be available for sale in the first quarter of 2014. Visit www.marucit.com to find your local Citizen Dealer and to learn more about MCC's lineup of CINCOM Swiss-type lathes and MIYANO turning centers.