CHARLOTTE, N.C. (May 25, 2017) – Okuma America Corporation, a world leading builder of CNC machine tools, is the recipient of the 2017 Mayor's International Community Award (MICA) for a medium business and was honored Thursday, May 11 at the Blumenthal Performing Arts Center in Charlotte, North Carolina for philanthropy. Okuma was chosen by the Charlotte International Cabinet for their contributions to higher education.
Okuma's donation of $100,000 in machine tools to the engineering technology programs at Central Piedmont Community College (CPCC), enables students to gain valuable hands-on machining experience and the skill set needed to enter the manufacturing workforce.
"The lack of skilled labor is one of the biggest threats to the U.S. manufacturing industry," said Jim King, President and COO, Okuma America. "We're excited to partner with CPCC in educating and training the next generation of operators, machinists, and programmers and we're honored to receive this award."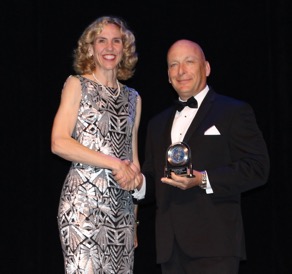 Okuma also received this award in 1998, during the inaugural year of MICA awards. The annual Mayor's International Award program is hosted by the Charlotte International Cabinet in collaboration with the Office of the Mayor and the Office of International Relations. More information can be obtained by visiting www.charlotteinternational.org.
Okuma America Corporation is the U.S.-based sales and service affiliate of Okuma Corporation, a world leader in CNC (computer numeric control) machine tools, founded in 1898 in Nagoya, Japan. The company is the industry's only single-source provider, with the CNC machine, drive, motors, encoders, and spindle all manufactured by Okuma. The company also designs their own CNC controls to integrate seamlessly with each machine tool's functionality. In 2014 Okuma launched the Okuma App Store, the industry's only centralized online marketplace for machine tool apps and related content. Along with its extensive distribution network (largest in the Americas), and Partners in THINC, Okuma is committed to helping users gain competitive advantage through the open possibilities of machine tools, today and into the future. For more information, visit www.okuma.com/americas or follow us on https://www.facebook.com/OkumaAmericaCorporation or Twitter @OkumaAmerica.