Delcam's PartMaker Inc. Division will be hosting its Chicago-area PartMaker 2013 Road Show stop in April at the Hyatt Place Chicago / Schaumburg, Schaumburg, IL. This unique event is free of charge for PartMaker users and invited guests.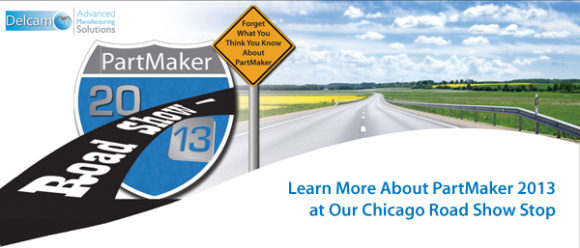 April 3-4, 2013 | Hyatt Place Chicago / Schaumburg
| 1851 McConnor Parkway | Schaumburg, IL
The program for this event is broken into two parts, depending on your technical interest level. The morn­ing of the first day will focus on technically oriented presentations on the new features and benefits avail­able in PartMaker Version 2013. For those interested in getting more "hands on" with the new Advanced Surface Machining (ASM) module available in PartMaker 2013, the second half of the first day and all of the sec­ond will be spent in a classroom environment where a PartMaker applications specialist will train you on us­ing ASM. Materials and PCs for doing so will be provided. This day and a half session is specifically aimed at ex­perienced PartMaker users and particularly those who currently have licensed PartMaker's SMW module or are considering moving into 3D surface machining.
A complimentary catered breakfast and lunch will be provided to all attendees on both days.
This event will be educational and a lot fun. It's also a great industry networking event. Seating is limited, so please make sure to register by March 25 to reserve a spot for you and your colleagues!

Agenda
Day 1 Morning:
8:45 – 9:30 Breakfast
9:30 – 11:00 New Features in PartMaker 2013
11:00 – 11:15 Coffee and Networking
11:15 – 12:30 Introduction to PartMaker's Advanced Surface Machining
12:30 – 1:30 Lunch and Networking
Day 1 Afternoon Agenda:
1:30 – 3:00 Transitioning from SMW to ASM
3:00 – 3:15 Coffee Break
3:15 – 4:30 Review of ASM Machining Strategies
Day 2:
9:00 – 4:30 Continued In-Depth Instruction on ASM including specific hands-on exercises on:
* Roughing and Rest Roughing
* High Speed Machining
* Finishing
* Stock Model Machining
* 4 & 5 Axis Simultaneous Machining