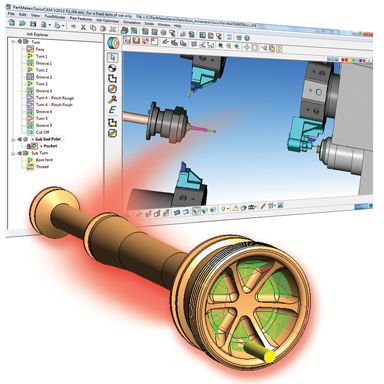 Latest PartMaker version featuring the Advanced Surface Machining module to be demonstrated at the precision machining industry's leading trade show.
Fort Washington, PA – PartMaker Inc., a division of Delcam Plc, will demonstrate its latest version of PartMaker Software for programming CNC Mills, Lathes, WireEDM, Turn-Mill Centers and Swiss-type lathes at PMTS 2013 in Columbus, OH, April 16 – 18. 2013.  Additionally, PartMaker Inc. Division President Hanan Fishman will be a keynote speaker at the adjoining PMPA National Tech Conference immediately preceding the show, discussing the benefits and potential pitfalls in working with solid models for precision manufacturers.
PartMaker Version 2013 features a totally revamped surface machining module offering PartMaker users some of the most powerful CAM machining algorithms on the market. PartMaker 2013 also features a restyled, more productive user interface.
"As the leading event for the precision turned parts industry, PMTS is a great opportunity to showcase PartMaker Version 2013," says PartMaker Inc. division President Hanan Fishman.  "With the release of the new Advanced Surface Machining Module and the recently improved PartMaker Modeling application, PartMaker offers it users the most comprehensive production machining oriented suite of CAD/CAM software on the market today."
"PartMaker's new Advanced Surface Machining (ASM) functionality is based on the same technology and algorithms underpinning Delcam's PowerMILL, the leading CAM system on the market for the manufacture of complex shapes," says Fishman. "The new functionality being offered in PartMaker's ASM answers the needs of our customers making ever increasingly more complicated parts, particularly for those in the medical device and aerospace arena."
Restyled User Interface
PartMaker Version 2013 features a sleeker, restyled user interface.  Headlining the improvements in the user interface in PartMaker 2013 is the Job Explorer tree which makes navigating Machining Function Face Windows and Part Features faster.  Additionally, a number of new controls have been added to the software to make working even more intuitive. Also, a number of diagrams in the software have been recast and revamped to give PartMaker 2013 a fresh new look. While the user interface enhancements are numerous, PartMaker 2013 has retained the software's traditional work flow with its industry leading ease of use so existing users will not have to worry about any relearning, they will just be able to be more productive 
Introducing the Advanced Surface Machining (ASM) Module
The new high-end milling functionality available in PartMaker Version 2013 is known as the Advanced Surface Machining module, or ASM for short.  ASM replaces PartMaker's Surface Machining Wizard (SMW) module for surface machining of free form shapes.  For existing PartMaker users, the upgrade to ASM will be provided free of cost and the transition will be very easy to make.
The benefits of the ASM module for PartMaker users are numerous. They will allow for faster tool path calculation, greater tool control and improved surface finishes, among other benefits.
The ASM module features a wide variety of high-end milling strategies that can be applied across the entire suite of PartMaker CAM applications including PartMaker Mill, PartMaker Turn-Mill and PartMaker SwissCAM.  The powerful surface machining strategies in ASM are the same as those found in PowerMILL, Delcam's industry leading CAM system for the manufacture of complex shapes.
More on PartMaker
PartMaker is a Knowledge Based Machining system, allowing it to provide a substantial gain in programming efficiency by remembering the tools, material and process information necessary to machine individual part features.  It thus relieves the user from reentering the same features information for subsequent parts.  It also improves productivity by placing the emphasis on tool management functions.
PartMaker pioneered the field of CAM software for Turn-Mills and Swiss-type lathes with its patented Visual Programming Approach for programming multi-axis lathes with live tooling. It assures quicker learning and easier use. It makes an extensive use of pictures to help the user describe tools, part features and machining data.  Synchronization of tools working on multiple spindles is achieved by a few mouse clicks.
PartMaker Inc. is a subsidiary of Delcam Plc, the world's leading developer and supplier of complete CAD/CAM software solutions.  Delcam Plc is publicly traded on the AIM exchange in London.  In North America PartMaker is sold directly by PartMaker Inc. PartMaker is sold overseas through a network of sales partner offices operating in over 120 countries.