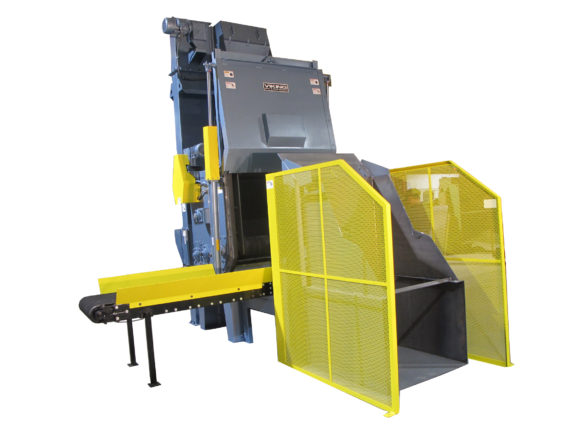 Viking Blast & Wash Systems announces the release of their newly redesigned tumble belt blast machine in the fleet of Industrial Blast machines. The 12 cubic foot, model 1200. The latest version incorporates changes to the loader and discharge belt options that make it more durable heavy duty and foundry operations. The increased options lineup make the 1200 a more versatile machine providing wider applications to the many industries served.
This new 1200 has a smaller footprint by the integration of the media lift system and the elimination of the auger which lowers overall maintenance cost and improving component accessibility. The unique repositioning of the 25-HP VKPowerMax series blast wheel optimizes the blast pattern to make most efficient use of wheel performance. The drum heads and side liners are manganese alloy as standard and easily serviced. Other optional features are, rotary scalping drum for removing debris from blast media, loader, take away belt, and auxiliary abrasive hopper. Front bucket loaders and custom unloading conveyors are common options for the 1200.
Peening requirements are satisfied with optional variable speed blast wheel control, electro magnetic abrasive control valve and classifier as well as optional PLC and touch screen for pre-programmed, recorded, part specific recipes.
All Viking cartridge style dust collectors are sold with NFPA required deflagration panels as standard.
Viking Blast & Wash Systems offers industrial cleaning solutions for all sizes and shapes of metal parts. To receive a copy of the new brochure or for information on any of the shot blast, wash, or vibratory equipment offered by Viking, please call 1-800-835-1096, email sales@vikingcorporation.com or visit their website at www.vikingcorporation.com.