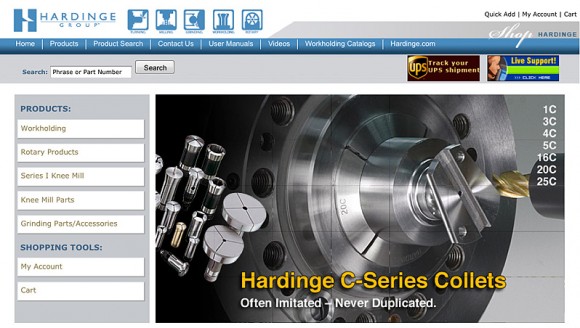 Single Source. Collets, expanding collets, collet chucks, chucks, tool holders, tool holder collets & bushings, rotating tool holders, collet blocks, rotary products, custom manufacturing, Bridgeport knee mills and grinding parts & accessories.
Spindle tooling for all styles of machines. CNC lathes, Swiss-type lathes, manual lathes & mills, multi-spindle lathes, automatics, turret lathes, rotary transfer machines, automation, assembly and specialty machines.
www.shophardinge.com Now Easier than ever to purchase – NO ACCOUNT NECESSARY. Use our express checkout and purchase your product in minutes. Real-time inventory status and tracking.
Competitive pricing and quick delivery.
How can we help you?
www.shophardinge.com
Hardinge Inc. 800.843.8801