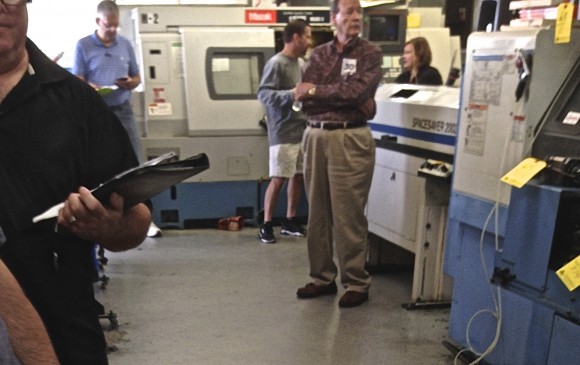 Last Tuesday, I attended an auction in Carmel, a suburb of Indianapolis, trying to pick up a few CNC machines to round out Graff-Pinkert's stock. Key Auctioneers was auctioning off machine tools owned by Ameriflo Corporation. The company wasn't out of business. It had just decided to outsource its machined parts.
The sale featured an L32 Citizen manufactured in 1999 and four Mazak CNC Turning Centers, Multiplex 6200Y machines. Two of the Mazaks were new in 2000 and two in 2004. Mazak Turning Centers are not Graff-Pinkert's specialty, but we are always trying to learn the CNC market better, and if there is an opportunity for a great spec we try to explore the possibilities. My boss, Lloyd Graff, saw an advertisement for the auction in the Chicago Tribune of all places. We had received only one email blast promoting the sale and had not received any print flyers for it, so we thought the auction might be a sleeper.
I had been given a rough number that I could spend at the sale for the Mazaks. I was told that if I could buy one of the 2004 Mazaks for $60,000, not including the 12% buyer's premium, it would be too good a deal to pass up–even with our very limited experience with the equipment. An auctioneer colleague of ours estimated that the retail price from a used dealer for one of the 2004 Mazaks in good condition would be about $120,000. At the sale, I was told by a Mazak sales rep that if these type of machines were bought new today from Mazak they would cost $450,000 each. My instructions for bidding on the 2000 machines were more vague. All I remembered was, "bid a lot less than the $60,000 we targeted for 2004 Mazaks."
I spent more than an hour the day before carefully inspecting the four Mazaks and the Citizen. The operator of the machines from Ameriflo put the machines under power and was extremely helpful in giving me the straight dope on the equipment. The machines had put in a lot of hours over the last 10-15 years, running lights-out a lot of the time. The bar loaders and the parts conveyors weren't working on the Mazaks. One machine had a recently replaced motor, one needed a new ball screw, one just had a new battery installed. He told me the machines were all "good machines." I had at least confirmed that the four Mazaks were relatively aesthetically pleasing and were running.
The auction was small, with only a few hundred lots. After just 15 minutes, the newest, best Mazak was on the block. The bidding started at $30,000. This was one of the main machines I had come for so I jumped into the action. It was the first time I had actually gotten to bid at an outcry auction. In the past I had pushed the button to bid online with my bosses directing me at my side. A few times at past outcry auctions I had permission to bid on certain items, but the prices went over my threshold before I could even throw a number out. But this time I was in the ring. I went back and forth with two other bidders. At least two auctioneers were swarming me, waving there hands just a few feet away trying to egg me on to bid more. One bidder was online, the other, who ended up buying all four Mazaks, I had seen the day before, inspecting the machines at the same time I was. I bid $40,000, then $50,000, and the intensity built as it got into the $60,000s. I think my highest bid was $67,500. I had reached my spending limit and I admit I was a little relieved when I couldn't go any higher, even though I think that the $70,000 it went for was probably a good deal. But a price of $70,000 plus 12% buyer's premium, rigging and repair costs was a lot of cash to throw at something I knew little about, even if I did know some customers who might be interested in it.
After the machine sold, I called my boss and told him what happened. He was pleased that I got in the thick of the bidding and gained the experience, but he was glad I didn't go any higher. He said something like, "We don't want that type of machinery anyway. Maybe you can get the Citizen when it comes up." So, when the last Mazak 6200Y (new in 2000) came up, I sat back and watched it sell for a mere $40,000 to the same guy who had bought the other three similar machines. When the bidding ended on that machine I thought to myself, "That machine was probably the steal of the auction. This was the opportunity I blew."
Looking back, I don't think I should flagellate myself for not bidding. The money wasn't coming out of my pocketbook and I had just been told that it wasn't the type of equipment we wanted to spend our money on. Later, I spoke with the guy who had bought the four machines. He asked me if I was Lloyd Graff's son or Jim Graff's son–the machine tool business is a small incestuous world. Then the guy told me that he had not even planned to bid on the fourth Mazak, but it was just too cheap not to buy. Ug. I was learning. What did I learn? I should have been better prepared. I should have had a better bidding plan. I should have known more about the machines. Maybe I should have gone into battle with a partner.
I held out hope to get the Citizen, a machine we do have some experience with. Our target price was $40,000. The machine was clean and running but it was still pretty mature in CNC years–not as bad as dog years, but computers have come a long way since 1999. Heck, in 1999, I was a college sophomore, Bill Clinton was President and the Bulls had won the NBA Championship the year before. Also, the Citizen's bar loader was an oddball at 6 feet. I got in the mix and bid all the way up to $47,500. I was then relieved when someone else after some deliberation bid up to $50,000 and won the machine.
I felt fine as I left the auction. I gained bidding experience, learned quite a bit about CNC equipment and made some good contacts. I think I might have let a good fish get away, which does not feel good, but I would have felt more disappointed if I had lost out on a multi-spindle screw machine or Hydromat that I knew well.
Question: Do you enjoy buying stuff at auctions?