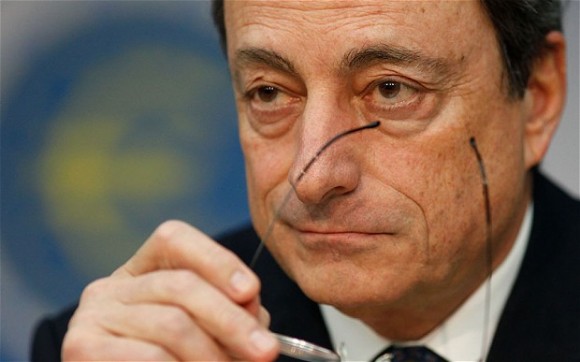 We are all in this world economy together, and for most of my life the basic rule of money was that it would lose value year after year because inflation would always take its 2-4% nibble. But it is starting to look like that rule, that seemingly immutable act of the god of the economy, has been turned on its head.
The Europeans led by the bone rigid Germans and the limpy wimpy head of the European Central Bank, Mario Draghi, are dragging themselves into deflation. The Japanese, with their country of old people, have been in deflation for almost 20 years and are desperately trying to manipulate themselves out of it with a monetary scheme that unfortunately won't make more children or import immigrants. The United States has plenty of unused assets, Silicon Valley pushing down prices, a torrent of shale oil gas and coal, and a flat birth rate with a stupidly restrictive lid on immigration. (Fortunately, resourceful people still sneak in to lubricate the economy and provide needed human energy, but it would make more sense to let them in legally).
So here's the deal. We're in the "no inflation," "look out for deflation," "do you really want a mortgage?" blues for quite a while, and we better figure out how to live with it and make it work for us.
I think we are seeing the reaction to non-inflation in the house ownership rates in the U.S. Despite tax benefits, home ownership is shrinking steadily here. We are under 65% now and dropping quite abruptly. This is partly due to the post 2008 recession, but even with 3% growth in the economy it is still plummeting.  Now the banks are reluctant lenders, but one reason for that may be that they do not see house inflation bailing them out on loan defaults.
Car leasing is now 26% of new car transactions, double the 2009 rate. It is rising virtually each quarter and now used car leasing is starting to catch on. I see it as a reaction to non-inflation, though I will admit other factors are in play — like city life.
The machine tool market is also a place where we are seeing flat or receding prices. Swiss CNC prices have fallen in recent years for both new and used. The strengthening dollar versus the Yen and Euro will exacerbate this trend. The Yen is at a 7-year low, 112 to the dollar. The Euro is down 10 cents or 8% in the last 90 days.
Think of what you can buy a Haas VF-3 for today, new. Inflation, I used to know you.
Wages – we all know the routine. Flat, flatter, flattest, unless you can program or know the recipe of a secret sauce. In the face of non-inflation Al Sharpton and Elizabeth Warren and every joker who wants to run for President will push for a higher minimum wage. There is a social argument to be made, but the economic likelihood of it actually helping more people than it hurts because the number of low wage employed recedes, makes the higher minimum wage hard to support.
So how do you play it if you believe that we have non-inflation and Europe and Japan are wallowing in deflation for what looks like the next several years?
The U.S. stock market averages hit record highs on Friday. Money has poured into stocks because savers cannot afford to buy low interest bonds or put money in a non-saving bank account. If real estate appears stagnant better to be a renter unless you can find a hot local area. Gold? You couldn't pick a worse place to bury money with non-inflation.
If you have a business or a skill it may make sense to invest if you really believe in yourself.
For a retiree this is a tough moment. Inflation hurts a Social Security income. Non-inflation is neutral. But people with nest-eggs they need to invest are almost forced into dividend paying stocks. People who have much of their savings in their homes face a real quandary. Do you sell now into a weak market and look for a rental that may not be as nice as your home, or do you live in your homey home that has rising property taxes and shrinking equity? Tough choice.
Question: Inflation. Deflation. Which is worse for you?