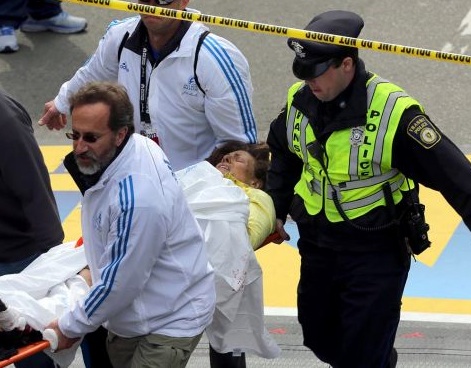 Martin is so skilled at waterskiing he seldom uses the skis anymore. He prefers the challenge of barefoot skiing on Lake Hopatcong that hugs his summer residence in New Jersey. Martin is my wife Risa's first cousin, so I've known him for over 40 years. At every family event we played basketball against each other. We'd bang each other around on the court (he played for the North, I always played for the South) and then adjourn for the banter.
If there was an injury Martin would take over using his medical training to aid and comfort the hobbled participant.
It came as no big surprise that Dr. Martin Levine was one of the first doctors to reach the wounded at the Boston Marathon last Monday. He has run many such races and worked Boston for 13 years. He was in the medical tent tending to the irregular heart rhythms and dehydration issues that hit the runners coming in at the popular four hour mark that is such a great accomplishment for recreational runners who train religiously to run one marathon a year.
And then the bombs went off. Martin ran to the noise and smoke a half block away from the medical tent. On the basketball court Martin always attacked the basket, while I preferred the open jump shot. He loved the contact.
Martin encountered the carnage a couple minutes after the explosions. He begged people for belts and credentials lanyards – anything he could find for a tourniquet. The imperative was to stop the bleeding because most of the wounds were to the lower extremities from the BBs and ball bearings in the pressure cooker bombs.
Martin said time stood still amidst the chaos of bleeding and dying runners and spectators. But Martin was ready for this horror. The medical staff was well trained and experienced. These medical people were pros, and while they were not expecting a bomb attack they were in emergency triage mode immediately. Fortunately, the second bomb went off so soon after the first that it did not trap the first responders like at the fire at the fertilizer plant in Texas last week.
Martin did all that he could to help the wounded. He walked to a friend's house after the ambulances had collected the wounded. Every noise seemed magnified. It was not like September 11th because he could walk away toward normalcy. But it did feel like war had come to Boston.
Question: Should Dzhokhar Tsarneav be tried in the criminal justice system or the military courts?