I lean left politically and come from a family of Democrats, but most of my extended family are conservatives. I grew up with my father's ultra-liberal ideals based on the most profound teachings of Jesus, and my grandmother's traditional conservative values based on her moderate Lutheran church's weekly preaching and her Norwegian family values. That upbringing helps me understand the American people's visceral attraction to and repulsion by both candidates as I watch the political circus of 2016.
My grandmother's world is disappearing, and it saddens and scares her. At 19 she married my grandfather when he came of out of the Navy after WWII. She left her family and everything she knew in North Dakota when my grandfather, an electrical engineer, received a positive reply from a classified ad job posting for an engineering position in Cleveland. Eventually he landed a job with Amocams, a division of Amoco Oil, in the western suburbs of Chicago, where the story goes he was on the team that created the first printed circuit boards. He also worked on automating the oil pipelines in North Dakota. He was there when the pipelines were first operated remotely and they no longer needed men to drive hundreds of miles across the plains to manually crank the valves open or closed.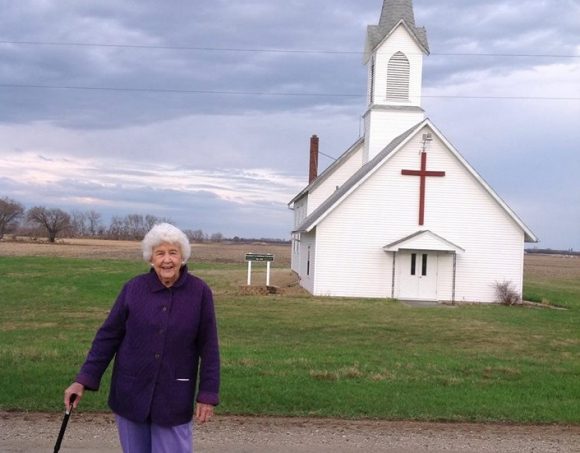 Visiting my grandmother's home today is a journey back in time to the best of the 1950s. My loving aunts are often there, and I am greeted by smiles and hugs and offers of homemade sweets and coffee. Everything is cared for and in its place. At 93 she still irons pillowcases and plans her home's decorations for each holiday. The Steinway grand piano takes up half of the living room, and the chairs face each other in a way that allows visitors to feel comfortable and see each other well. Her week is planned around church, her quilting group, and the daily letter writing that she depends on now for connection, as her hearing is mostly gone. It's peaceful, warm, simple and lovely. When I need a pick-me-up, I drive the hour from my home to visit this old-fashioned place that's full of love.
In contrast, I am a modern Millennial. In my day-to-day world I often feel skeptical and bitter. Like many of those around me I no longer make an effort to wave at neighbors or slow down to let people cross the street.
I think, "Why get married when we can live together?" I have dogs instead of children, I don't trust anything I hear on TV or in the papers, I work two jobs, resentfully pay for my own overpriced $10,000 deductible health insurance, and my friends pay down student loans for decades and balk at the idea of retirement savings. Many of us Millennials have given up on religion, politics or efforts at community based on anything but drinking. Our world can be very very cold. In this world, meaningless distractions are too accessible and real connections aren't always worth the effort.
I wonder if Donald Trump's supporters live in the cold world I often find myself in, but long for my grandmother's world like I often do. Maybe they long for the goodness of those days so much they're willing to forgive his many sins on the small chance that his promise to bring back the old way can somehow materialize.
Trump's campaign resonates with the bitterness in me that's angry about the changes that have taken place since my grandmother's time, as well as the part of me that longs for social niceties and politeness, community and uniformity. He appeals to the part of me that says "screw you" to the establishment and those who seem to take and take, that visceral and deeply angry part of me. The Clinton campaign tugs at the hopeful side of me that believes my grandma's world can still exist among diversity, and that there's enough for all to go around. It is the side that longs to recreate an even better version of the past for my future children and my potential community.
This election is revealing the intense ideological divide between us, and maybe within us. If we look beyond the political antics and listen deeper, the debate Monday night may as well have been a struggle between the world views of me and my father, and my grandmother, each grasping for survival of their way of life.
Question: Is America great now?
Emily Halgrimson has worked at TMW for more than 8 years. She plans on voting for Hillary Clinton because to her it's a vote for inclusiveness over hate, experience over fame, an acceptance of inevitable change, and hope for an even better era ahead for all.