We are at the 1/16 pole headed to the finish line of 2018.  What does the news tell us about 2019 business?
As usual it is a mixed-up picture – a patchwork mosaic of information and gut feel.
GM announced yesterday that it is going to let go of 25% of its salaried employees.  This is probably overdue for the still bloated Detroit company but, nevertheless, shocking for a company that is making loads of money now.  But GM, like Ford, sees a changed new-car industry within 5-10 years and is shedding its pouch to prepare.  Sales are down a bit now, but this move is not about the American economy at the moment; it is about autonomous cars, also the possibility of electric cars, but mainly it's about bye bye baby boomers, hello Generation Z, who wants to live in cities and is not particularly enamored of horsepower.
Then there is General Electric as a $9 stock.  When a Wall Street raider smells opportunity it often ends up as chaos on the ground.  Nelson Peltz buys big into GE, and now the company is being dismembered, and the stock falls by two-thirds, and healthy divisions are being scavenged for quick cash to assuage credit jackals.  Do you think that scares top people at GM and Ford?  So we see them try to get out in front by slicing jobs at GM and sacrificing car lines and pushing trucks and SUVs at Ford.  They both smell the autonomous car upheaval and are shaving costs, accumulating cash, and investing in artificial intelligence so they aren't future casualties.
But for precision-machining people times are darn good right now and generally looking quite promising headed into 2019.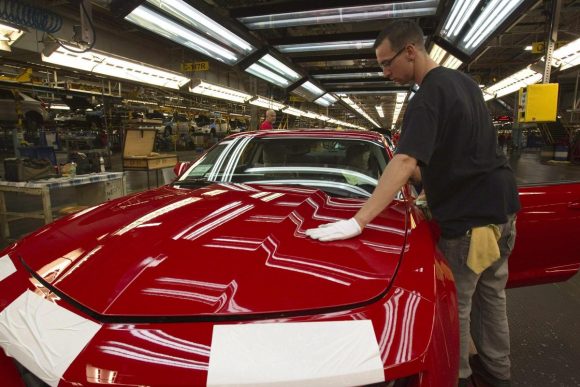 But what about housing, another leg of the economic stool?  New home sales are soft, starts are soggy, even used home sales are off, but it does not mean that folks are terribly down on housing.  It's the bite of higher interest rates which is playing out in soft sales.  Still, plenty of folks are taking money out of their homes to spiff them up.  My wife and I are spending a lot of dough to remodel our 43-year-old home, not because it will enhance its value enormously, but to enhance our pleasure in living in it.  A 4.7% refi may bite a little, but it does not appear high enough to stop the renovation boom.  Check out Lowe's and Home Depot; they are definitely not suffering.
But then there is the stock market plummeting.  Apple belching on too many phones that are barely better than the previous incarnation, and the company trying to make the Apple Watch the next big thing when it is really the next little thing.
Oil prices are plummeting for no apparent reason except the hedge funds were idiots who believed Goldman Sachs when they made their "big call" that oil was going to $110 a barrel because of Iran sanctions and OPEC hunger.  But they forgot about the ingenuity of dudes in the Permian Basin who have rewritten the drilling rules and resurrected fields that Big Oil had left for dead.  Then the poor hedge fund geese followed the leader and panicked, pushing prices from $75 a barrel to $52.  The price will rebalance in the $60-$65 range after a few more hedge fund tearful mea culpas.
I look for a good 2019 for the machining business if the Fed does not go nuts on raising rates to squelch the inflation that isn't happening other than wages going up which is a good thing, on the whole, for the economy.
Then there is President Trump, tweeting at 4:00 in the morning and playing his high-stakes games with China.  This does spook me because I doubt Trump knows his endgame, and the Chinese are on their back foot right now and therefore possibly dangerous.  A naval engagement with the United States would not be a good thing for the world economy.
We have Buenos Aires talks coming up in a couple days.  Trump will talk to Xi.  The Dow will go up or down 1000 points.  And the world will go on.
Question: Is automotive work a good place to be in 2019?