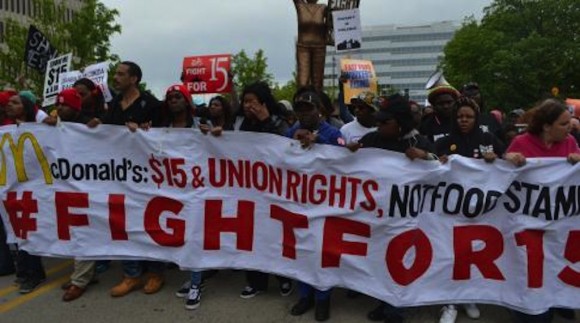 Old McDonald's is under siege these days. Demonstrators at the Oakbrook headquarters for $15 per hour minimum wage. Flagging sales. Franchisees are unhappy with the company. The stock is sinking. Burger King, of all competitors, is gaining share with fried chicken french fries advertised by talking roosters. The world doesn't like McDonald's at the moment so they fired the last CEO, who had just gotten his feet wet in the job.
Do they deserve a break today? I doubt it.
I visited a McDonald's today to buy a biscuit and coffee, something I very rarely do, but I was in a biscuit mood, and I like theirs.
I decided to negotiate the drive-through, but I did not understand the signage because there was more than one ordering station, so I had to go around twice. I ordered my biscuit and coffee and was forced to make a decision on cream and sugar by the anonymous order taker. I got rattled by the question. Did I want one sugar, one cream? I didn't know, because I wing it, so I said one of each by default.
Decisions. What a way to start my day.
Then I drove to the pay window. Why not pay when I received my food? What if I wanted to order another biscuit?
More overhead, less efficiency for McDonald's, which was empty at 8:15am.
Then I rolled to the window to collect my food. A surly young woman passed me my coffee and addressed a question (I think) to me. Unfortunately, I found her one word question incomprehensible. This was embarrassing. I looked inquisitively at her and she repeated her word again, and I still could not understand what she said.
"What did you say?" I asked. "Jelly?" she said. I thought to myself, why did she make this an uncomfortable moment?
She was a young African American woman who spoke with an inflection that was difficult for an older white guy with mediocre hearing to understand.
Yet "jelly" should not have come between us if McDonalds or a local manager had coached her on how to address me in a way I could more easily understand her.
"Sir, would you like strawberry jelly with your biscuit?" she could have asked. And I would probably not be writing this column.
McDonalds, please train your people. Teach them to smile. Instruct them how to address a customer, politely, rather than building in contention.
I took my bag with my biscuit and found that there was no butter, but two packets of jelly – one grape, one strawberry — I didn't even want, and coffee with the wrong amount of cream and sugar for my taste. One little encounter, yet they messed up my experience, even though the biscuit was quite tasty.
We all have several encounters every day with coworkers, customers, suppliers, family, and friends. We probably screw many of them up because we do not see or hear ourselves the way others do. For McDonald's, which has a million encounters each day, training is crucial. The "jelly" woman had no idea she was annoying me today, but a well trained manager, monitoring her counter people could easily correct the problem.
Steve Easterbrook, the new CEO at Oakbrook headquarters, probably has no idea that the "jelly" woman just irritated a client. He does know that "jelly women" are demonstrating in front of his office for $15 per hour and his 29,544 franchises are angry because the company stores just announced a $1 hour raise above the national minimum wage. Nobody's happy with McDonalds these days.
Question 1: Do you go to McDonald's?
Question 2: Is McDonald's broken today?