I bought a gorgeous piece of art last Saturday, a painting of an "L" Train clacking through an apartment jungle in Chicago. At least, that's what it represented to me. Another person might see something different. That's part of the beauty of art.
I didn't expect to be buying a painting. On the spur of the moment after a workout with my trainer I was driving home, focusing on NOT stopping at Dairy Queen, when I remembered there was an art fair in downtown Homewood, Illinois. I spotted a parking spot at Starbucks, went in and bought a bottled water and asked if I could park for a half an hour or so. They were cool, and I walked over to the fair. I saw Charlie Celander who used to be the art director of Screw Machine World in the early days of the magazine. He was in a booth with his daughter Anna who was showing her work. The "L" piece immediately caught my eye. That's the way it is with art. If it doesn't speak to you, yell out to you, when you first experience it, who needs it. I talked to Anna, who remembered me from the magazine days, and she told me about her work as an art therapist. I wanted to buy it then but figured it was wise for my wife, Risa, to see it because we would have to negotiate wall space in the house, though I also had Graff-Pinkert as a fall back location. Risa was working out at the time, and we had a dinner engagement in a couple hours, but I figured I could get her to see it before the fair closed at 6:00 pm.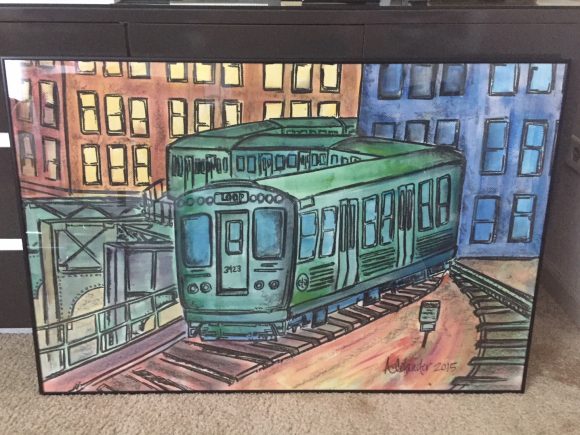 Risa arrived around 5:30 and checked out some Peruvian fashions I liked (that she didn't like). Then I led her over to the booth with the painting. But on the way over we met some old friends, Joel and Gayla Kahan, who were grazing at the fair. I told them about the painting, and they wanted to see Anna Celander's work. Joel loved the "L" piece, too. Both wives were a little less enamored of it.
Joel wanted to buy it, which only increased my desire for it. I asked Anna for "her best price," which I'm sure my son Noah would have said was a poor negotiating tactic, but I considered her asking price of $525 framed and covered with glass to be something I could afford anyway. She stammered and went down to $475. Then my friend Joel stepped up and indicated he really wanted it too.
Impulsively, I said to him, "why don't we flip for it." Anna was a bit taken aback by this twist of events because nobody had ever sought out her work like this before. She offered to do another piece or make a copy, but both of us were really only interested in this "one and only" original.
Fortunately, my "flip for it" gambit knocked Joel and Gayla off their game. Joel Kahan is a gastroenterologist, not a used machinery dealer. Competing for a material object of unknown value at an art fair was not exactly a colonoscopy, so he gracefully backed off, and I immediately handed my credit card to the grateful artist as her Dad began wrapping it up.
I felt good, not because I beat Joel out of the "L" painting, but because I was decisive about something that really spoke to me.
It harkened back to 13 years ago when I commissioned a college kid named Mike Eisenwasser to paint an original mural on the side of a 40-foot steel shipping container to flank the driveway of our office. I had liked his work that had been displayed on the walls of my local Starbucks so I proposed this crazy assignment for Graff-Pinkert. He was up for the project, but I made it clear to him that he had to finish it in three months from inception to completion. That's a lot of paint.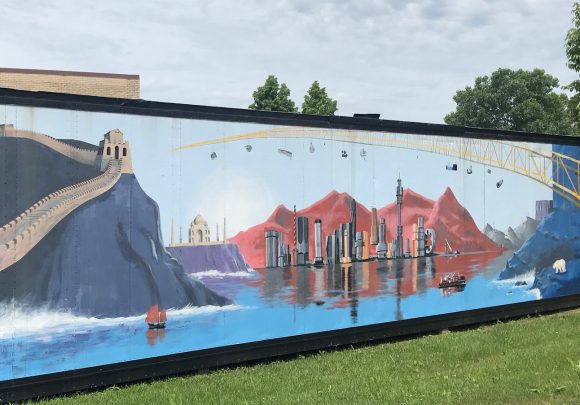 Mike completed the mural right before he left to go back to the University of Illinois, and I loved it. He created a colorful city-like scene in which the buildings are shaped like screw machine parts and tooling all found in Graff-Pinkert's shop.
But the evening before he left for school he realized he had forgotten to sign it, so he and his dad came back to Graff-Pinkert that night, dug the paint can out of the dumpster and put the finishing touches on in the dark
That mural brings me pleasure every day when I drive into the parking lot and when I look out my office window. When I came back after my heart attack 10 years ago I cried when I stared at Mike's mural.
How much is art worth? That is in the eye of the beholder. But when I saw Anna Celander's painting last Saturday afternoon I knew it would bring me great pleasure, hopefully for a long time.
Question: Which art pieces have spoken to you? Both famous and not famous.