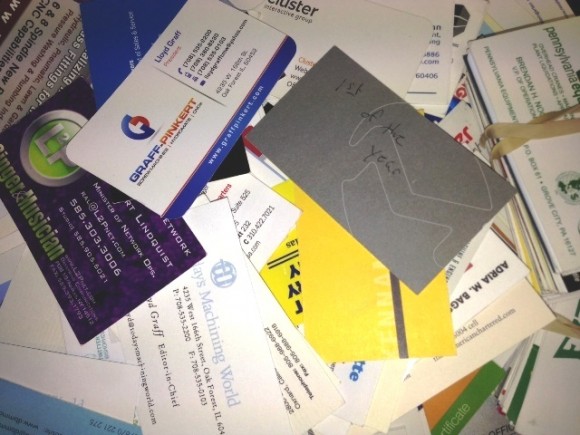 IMTS is coming and neither Graff-Pinkert nor Today's Machining World will have a booth — but we do at least have business cards!
Cards are a funny thing these days. It's the 21st Century, and everyone has a Website, a Facebook, and smartphone that can store detailed information plus take photos and video. But still, if you're in business anywhere in the world, you have to have a business card. Those little portable pieces of cardboard can be powerful. Pass out a lot of them, and maybe one will have a lasting impression that pays dividends.
Last fall, I was traveling around Germany looking for screw machines and Hydromats. Often on my business trips I resort to shots in the dark while I'm in between previously planned appointments. I call up companies from old lists of machine shops acquired by Graff-Pinkert over the years. I have a beautiful phone intro, "I'm in the area, so I was wondering if I could stop by your shop. Do you have any machines for sale or that you're looking for?"
On a rainy day, sitting in my hotel room in Cologne Germany, I was able to get through to an owner. He then told me he had nothing for sale, so I shouldn't come, but he recommended that I try a colleague with a shop in the mountains, about two hours away. I called the shop up and made it through to the owner, and indeed they had a very expensive vertical Hydromat for sale and said they would be happy to have me. So I drove out to the boonies on the west side of Germany — it seems like most shops in Germany are in remote places — and when the owner met me at the door he handed me a boring black and white business card in pristine condition. I couldn't believe it when the card read "Rex Magagnotti," my fellow salesman at Graff-Pinkert. Apparently Rex had trekked up to the same shop 16 years ago, probably just like me, on a whim, looking for treasure.
There is something about a business card that has the power to make a lasting impression. Sure it likely will get tossed or bunched in a rubber band with 100 others, but it has a presence, it's tangible, you can carry it in your wallet, keep it on your desk, or write on the back of it. If the receiver cares about what's on it, it might just survive. Paper is a waste of natural resources and a cumbersome thing to organize. However paper can last for centuries. The Vatican library has books that have lasted 2000 years. Computer bytes disintegrate in 5 to 10 years, meaning the data has to be constantly backed up.
Another business trip also gave me a respect for business cards. When I went to Japan to do a story for Today's Machining World, I was instructed that if a Japanese person presents you with a business card, you must read it thoughtfully for at least 30 seconds and then carefully store it in a holder, rather than shoving it in your pocket. The card is regarded as a symbol of a company, deserving respect.
My friend Rich Kaplan, a professor of creativity who used to contribute to Today's Machining World, told me that a good business card should have a utilitarian purpose, in addition to just being a promotional tool. For example, he suggested putting a ruler on the back of a business card, or perhaps a table of feeds and speeds. Put something on the card so it can be constantly used for practical purposes and stay in the hand of a customer as much as possible. Our Graff-Pinkert business cards were designed with a matte finish and a lot of blank space on the back, so people can easily write notes on them. When I'm at IMTS this year, I will try to remember to only write on the back of our own cards and not on the back of one from a Japanese company.
Question: What should Barak Obama's business card have on it?