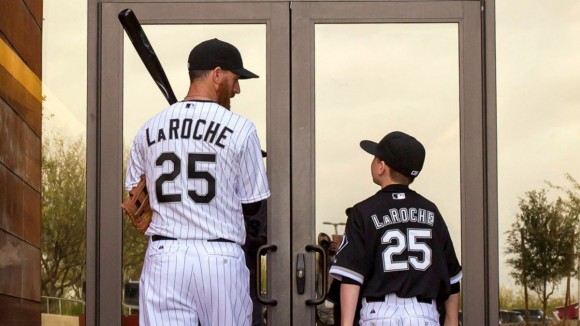 In Chicago this week the big story (even bigger than the Illinois primaries) has been the retirement of Adam LaRoche, a designated hitter, first baseman for the Chicago White Sox. He walked away from a $13 million contract because the Sox management objected to the frequent presence of his 14-year-old son, Drake, at the team's practices and games.
Drake is being homeschooled so he has a lot of time to be with his Dad. He went to 120 Sox games last year, often traveling on the team charter plane. He has an official White Sox uniform and spent a lot of time in the clubhouse, which is off limits to the press and friends. It is the inner sanctum of the team.
Adam LaRoche had informed the White Sox that he was close to his son and wanted to have him around frequently, but Sox management, especially Kenny Williams who is at the top of the team's management group, reporting to the longtime owner Jerry Reinsdorf, was surprised and bothered by his almost constant presence at spring training in Arizona.
When I heard about this case I found it shocking, that the 37-year-old La Roche, coming off a terrible 2015 season, would walk away from $13 million, which was most likely his last contract as a player.
The case is fascinating to me for many reasons. I can see it from the White Sox point of view – overpaid player disrupts team chemistry. The son's presence distracts Adam LaRoche. The locker room privacy is invaded by a teenager. LaRoche is an embarrassment to the management team that grossly overpaid for him.
It was logical for the White Sox to get rid of the kid and possibly get the added benefit of nudging the father to abandon the fat contract.
I would have thought the players would be relieved to have a "punk" kid and overpaid DH gone, but it has not played out that way so far.
It appears that Drake LaRoche was a mature and respectful young man who was loved by some key players like a younger brother without family baggage. And his father Adam was a highly respected mentor who helped several players through work and personal problems last season.
When Kenny Williams laid down the hammer on LaRoche's son, thus prompting Adam's resignation, he ignited a mini players' rebellion led by the team's star pitcher, Chris Sale.
The chemistry of a sports team is fragile and fluid. Last year the Sox underperformed their talent while their Chicago rivals, the Cubs, overperformed. Williams may have been looking for the opportunity to shake up the team, but a shakeup can also make things even worse.
It brings up personal issues for me. I worked summers for my father for six years, from the age of 17. To me it seemed like it never bothered anybody, but much of the time my father's partner's son, Dan, also worked. When my brother Jim joined the group things got more complicated in the office.
My wife started working in her Dad's law office when she was 15. She heard a lot of gossip amidst the paperwork. But I have no doubt that the presence of children in a family business in a visible position has the potential for disruption and jealousies.
I was fearful of repercussions when my son Noah joined the staff of this publication which ultimately morphed into a position at Graff PInkert, the family machinery business. Ultimately, it did cause resentment for my brother.
Family businesses and Major League baseball teams are not analogous but the LaRoche flap has similarities. At least as far as White Sox top management was concerned, Adam LaRoches's son was ruining the chemistry of the team.
A little of Drake LaRoche probably would have been okay. Adam had hung around some when his father Dave was a Major League pitcher and coach, but not for almost all of spring training and 120 games last year like Drake.
This is a sticky problem for the Sox. How would you have played it?
Question: Were the White Sox correct in expelling LaRoche's son?
Question: How do you feel about kids in the workplace?