I just listened twice to a podcast with Dave Dahl, creator of Dave's Killer Bread.  It was the most recent "How I Built This" podcast, conducted by the finest interviewer I've heard, Guy Raz of NPR.
Dahl slowly recounted his story of almost forty years, much of it about misery, depression, and failure, culminating in enormous financial success and more disappointment.
From a journalistic viewpoint the podcast was a masterpiece of storytelling – a slow, meticulous, layered presentation of a man's life of pain and, particularly, family resilience.  From a business standpoint it was fascinating and revealing.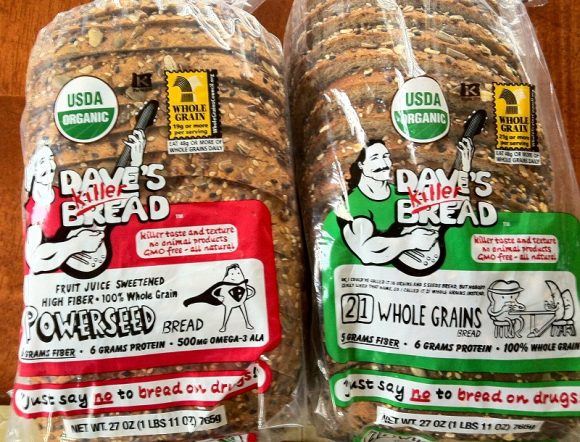 David Dahl's parents had a small family bakery in Portland, Oregon.  They were Seventh-day Adventists.  His father slowly moved the business toward whole-grain products.  David started working in the bakery when he was tall enough to reach the dough table. He was nine years old, earning 25 cents an hour, some of which he was forced to use to pay for school and clothes.  He describes himself as almost always angry and rebellious, suffering from being bipolar and having ADD.  He dropped out of high school, experimented with drugs and alcohol, and joined the Marine Corps, ultimately dropping out.  He said he was always running away from something.  After the Marines he got hooked on cocaine and meth, which pushed him into car theft and armed robbery.
Dahl spent a total of 15 years in jail, despondent, angry, and frequently suicidal.  He shunned treatment but eventually consented to taking Paxil, an antidepressant which he says had an almost immediate positive effect on him.  He was offered an opportunity in 2002 to take a class in computerized drafting, and he loved it.  He finally left jail in 2003, and his brother Glenn, eight years older than him, who had taken over the family bakery, offered him a $12-an-hour job as a baker, which he accepted.
The Dahl family was not a happy, jolly one.  The relationship between Dave and Glenn was strained from the beginning and did not get easier when Glenn's son Shobi, an Economics graduate of Brown, came into the business around the same time.
But Dave Dahl had finally changed from the drug-dependent, despondent criminal.  He had accepted himself and had a passion to do something with his life, and bread was his vehicle.
Glenn and Shobi gave him the time and oven space to develop breads of his own creation.  He used seeds and nuts and whole grains to develop unique breads.  He sold them at local farmers' markets around Portland and quickly developed a following.  He created a bread made with bluish cornmeal, called Blues Bread, and then his trademark, "Dave's Killer Bread," which concisely told his personal story of jail, dependency, and resilience on the label, with a cartoon picture of Dave with enhanced biceps.
The business grew spectacularly, getting clients like Safeway and Costco.  Dave and his nephew developed the Dave's brand independently, buying equity into the entire family baking business run by his brother Glenn.  It was an enormously successful, yet extremely unhappy and contentious, family business.
The family sold it to a private-equity firm in 2012 and became quite wealthy, but still unhappy, rarely speaking to one another other than nodding at family gatherings.
I was enthralled by Dave Dahl's saga and his candor. Putting his story on the bread packaging was the brilliant, counterintuitive move that struck me.  His marketing consultant thought he was crazy.  But he did it anyway.
I get it. I want to know something about the life stories of people I do business with.  I like to check out their websites for at least a glimpse into who they are.  I very rarely get anything juicy or substantive to grasp.  If there is anything at all it's usually a predictable, frothy story of happy success.
We all know enterprises are built from failure and conflict.  It may not be jail and drug addiction and family drama, but life is a struggle.  Nobody gets a pass.
Dave Dahl, the miserable, 15-year prison veteran reveals himself on his signature bread.  We eat it up.
Question: What is the story of your business? Has there been drama?