I'm on vacation in the Bay Area and I'm working. Today it's a blog, business calls, thinking about options for TMW and Graff-Pinkert. I'm in a coffee shop, sipping a latte and nibbling a superb authentic French croissant. I'm staring at a majestic eucalyptus and passing bikers.
I've been seriously considering what I really want to do on vacation – and frankly – this is it. I'm staying with my wife at my daughter Sarah's and son-in-law Scott's house. I get to be with my three grand daughters, watch the Cubs on cable, cheer on American Ninja Warrior, and do business and write.
I know there are a million things I "should" do on "vacation." Hiking, RV'ing, museum'ing, I could go to Norway and cruise the fjords, maybe Australia too, and then there's the majestic beauty of Alaska. I have the money, I probably even have the time (who knows), but I have no desire to do that stuff any more. I'd rather do work, family and Cubs. For me, my work is a challenging mind game each day. Bridge and chess don't do anything for me, but the intricacies of a negotiation for real money is endlessly fascinating. As the machinery business has become a global bazaar it makes it even more fun.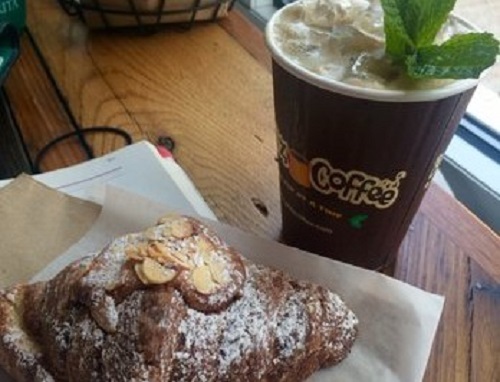 The 3am email from China or Slovenia may screw up my sleep and annoy my wife but it's definitely more exciting than a prostate call. And the beauty of email makes it possible to do business on weekends and holidays. The Fourth of July is a work day in Europe, Asia and Brazil.
I know I am extremely fortunate to have my work also be more avocation. Maybe I've worked hard most of my life to be able to get to do it now. But I'll take it – happily. And I'm really enjoying the croissant, too.
**********
The grand Tesla argument is in full swing now. Elon Musk is actually going to do what he promised he would do, build a $35,000 sexy American electric car and mass produce it, to the tune of 20,000 per month by December. He has pre-orders for 400,000 cars. And Goldman Sachs is hating on him – or at least his stock.
Musk has used the Amazon strategy of building a company from scratch by using borrowed money and hype. There is a furious tug of war going on between the bears and bulls.
The stock is $315 per share today, valuing the company at $51 billion, more than General Motors or Ford. Tesla is losing gobs of money as they simultaneously gear up to build the midsize car and build the monster battery plant in Nevada.
Meanwhile, Musk is also heavily involved in his reusable space launch company, SpaceX and his Boring Company which proposes to use a high speed tunneling concept to circumvent Los Angeles' clogged highway mess.
Musk is overextended in every way. The stock is down 15% in the last month, but is still in outer space according to the doubters.
I find Elon Musk the most amazing entrepreneur of our day. He actually builds things and knows that he can fail on any of these ventures, but he keeps defying the naysayers. One day the Goldman Sachs'ers will be right and the stock will plunge like his rockets sometimes do, but folks like Steve Jobs and Elon Musk and Jeff Bezos do absolutely remarkable things between the misses.
Question: What is your ideal vacation?