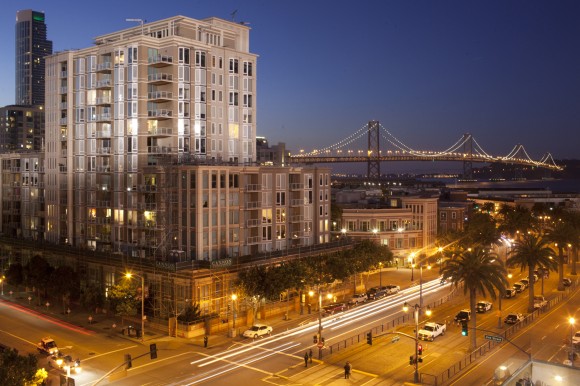 The stats tell us a lot about the economy, which is erratically bouncing along. Housing starts are up 6% over last year in the latest figures, but multi-family is jumping up 17%. In Palo Alto, California, this week, visiting my daughter, I'm getting a birds-eye view sipping my coffee while listening to the buzz and hum of construction tools in Silicon Valley. There is an occasional single-family house going up, but there are hundreds of apartments, hotel rooms and condos being built down El Camino Real, which bisects towns like Palo Alto, Mountain View and Cupertino where Stanford, Google and Apple call home.
The single-family home is not a relic yet, but the hamstrung banking system is still making the mortgage market a minefield, despite already low interest rates.
But the trend toward apartments is not just about the mortgage market. I think many folks, including young and old, are choosing renting versus owning in both real estate and other large expenditures. Real estate ownership for many people has been a losing proposition. I know it has been for me. My wife and I bought our home in the south suburbs of Chicago in 1979 for $130,000. It is a nice 3,000 square foot single-family home, two story, 5-bedroom with a full basement. Today it is worth under $200,000 and we'd struggle to find a buyer. We've paid off our original 8% mortgage and the 6% mortgage we took out to make our basement into a gym and rec-room.
Real estate has not been good to us. And for a million people who lost their homes after 2008, buying another house may not seem like a great idea.
For young people, building a nest egg with a 20% down payment is nearly impossible in the neighborhoods they find attractive. And retirees often prefer the safety of a rental after they've struggled to unload their home in an unfriendly market.
A change of lifestyle is another reason for the trend toward multi-family rather than single-family homes. Many young people are deferring marriage until well into their 30s. They live together rather than tie the knot. The lack of the official commitment of marriage dissuades putting down roots on a piece of property. But even if young people do have the inclination and the money to marry and buy a house, they may opt for an urban environment where single family homes are exorbitant or almost non-existent.
An interesting trend in the urban milieu is the conversion of old factories into lofts for housing, along with retail buildings being torn down to make space for new multifamily units. I certainly see that on El Camino Real in Silicon Valley. Mom and Pop stores and unsuccessful groceries make way for apartments, condos and hotels. Not much office space going up today, even in Palo Alto. Still plenty left over from the overbuilding of 10 and 20 years ago.
The non-ownership theme also rings true in the vehicle market. For the high number of young people in dense urban areas, owning a car is a luxury. Companies like Uber, Zipcar and Enterprise provide substitutes for owning a vehicle. Biking is also big in cities, as are home offices or shared office space.
The suburbs are not dead. Single family homes are not dead, but the tide is pounding against them. In the machining world, this works against the big earth movers like Caterpillar and the lawnmower makers, but every apartment and hotel room needs a toilet and sink, and there is plenty of demand for outlets for phone chargers.
Change with time or fade away like the white rhino.
Question: Has your home been a good investment?