Why did I devote the previous two weeks to watching the Chicago Cubs during the playoffs?
Sure—athletic feats are impressive and entertaining to watch. But why do I ecstatically jump up and down when my home team gets a big hit or strikes out an opposing batter?
Why do I hurt when we strike out, when we make an error, when we lose? And why do I use the first person plural when referring to the Chicago Cubs?
I don't know any of the players personally, though our electrician Julio is friendly with fellow Dominican reliever Pedro Strop. Virtually none of the Cubs players grew up in Chicago. But I am a member of the Cubs religion. I was raised in a Cubs household. So what affects the Cubs players affects me as well as my family. During Cubs playoff games we have an active group text between my dad, my sister Sarah and brother-in-law Scott living in California. If you look up and down our text thread you will see plenty of color commentary filled with passionate "Yeses!," superstitious animal emojis (usually sent by me) and questioning if "things are going to be ok."
Why do I have such emotional investment in the games? Why do my dopamine levels rise when the action on the field takes place? When the Cubs win, why does everything just seem right with the world? When they lose why do I feel empty?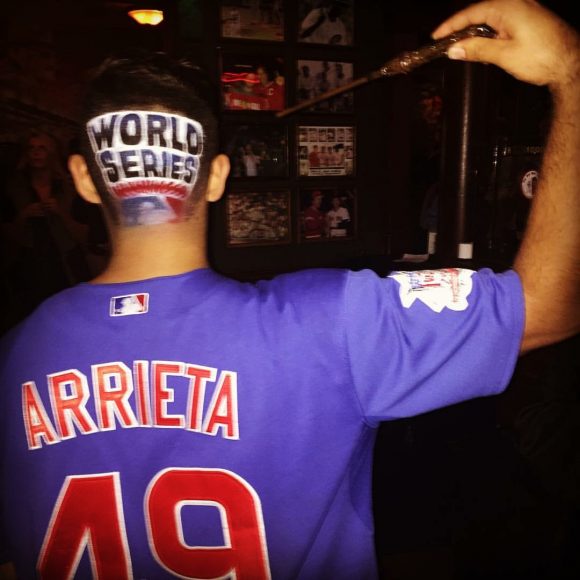 My conclusion is that a sporting event is live theatre. The Cubs were the protagonists and the Dodgers were the antagonists. But the protagonists were not just the Cubs players, they were the Cubs fans as well.
Theatre starts with an exposition. "The 2016 World Champion Chicago Cubs were playing the Dodgers in game four of the NLCS playoff series trying to reach the 2017 World Series. (Indulge me as I try to hold onto the one highlight of the series). Cubs hurler Jake Arrieta was pitching against the Dodgers' Alex Wood. It was a 'win or go home' elimination contest for the Cubs."
The plot built until the climax when the Cubs' Wade Davis stopped the final charge with a 6-out save! We won, and all was well. Sports competitions are dramas (often a tragedies). But unlike in a traditional drama on a stage, the athletes are the characters and they are REAL —not actors! The resolution (probably) does not cause someone to die, but the story is live and real.
The 2017 World Series between the Dodgers and Astros will be another great drama. But I am not a protagonist in this series like I was when my Cubs were playing. Some other lucky protagonists will live and die, on and off the field.
Question: Do you prefer watching sports on TV or live at the stadium?