I attended PMTS, the exhibition put on by the Precision Products Association last week, not really to sell screw machines, but to learn and connect. Accomplishing this goal gave me a satisfaction and closure that I've never felt before at a show. Here's the crux of what I learned.
This was the happiest crowd I've ever seen at an event of this type. The endless mope of the last recession finally has drifted away.  Nobody mentioned losing work to China which was a theme for so long. The prevailing vibe was that big companies are finding China a scary place to make large bets. Costs are converging with America finally, and production mistakes and logistical headaches make China a wash as far as costs go. The Trump tariffs cut both ways as far as competitiveness is concerned, but they do emphasize the uncertainties of depending on a competitor for crucial production. "I'll make it in China," used to be an automatic response by large corporations to a production requirement. Today it isn't. This does not mean a torrent of work is coming back, but it is more than a trickle. The major point is that the gutting of American manufacturing has ended, and the mood of suppliers has changed to positive.
Another nonissue for PMTS participants was the worker shortage. In three days of connecting with participants I never heard it mentioned. My sense is that owners and companies are adjusting to the employee scarcity. Interest in robots is keen for the dumb jobs that used to require thoughtless loading and unloading. Robotics programming and training is a hot category. Recycling 5- to 10-year-old refugee robots is getting to be an important business category.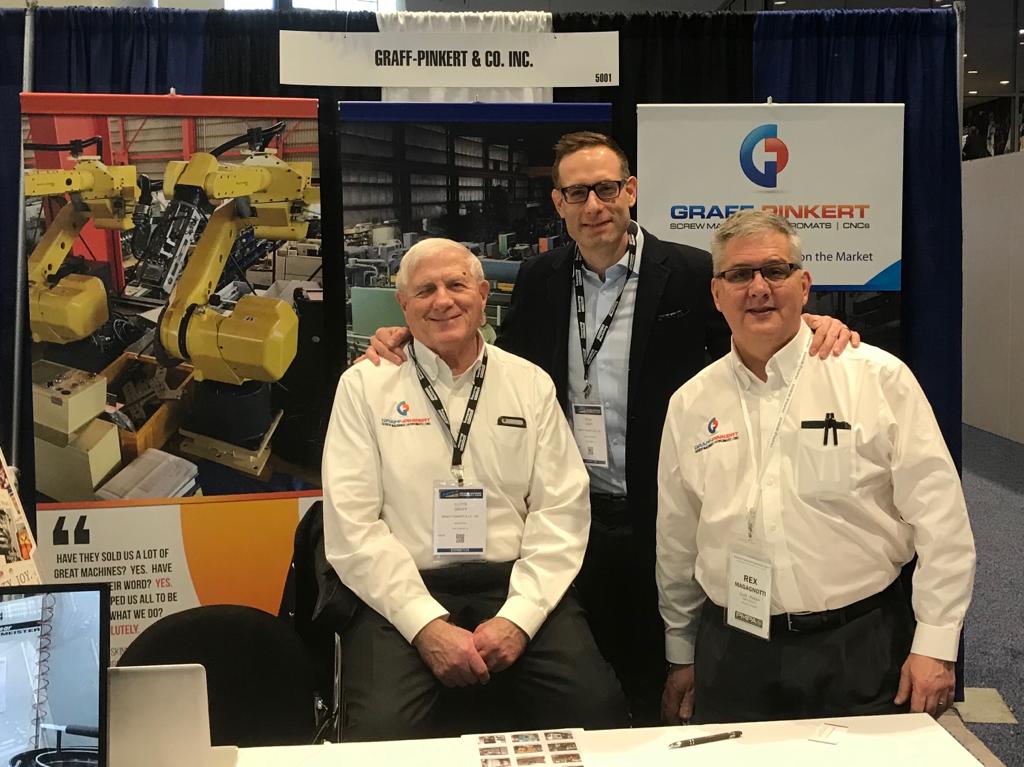 The large number of young people attending makes me think they are starting to get intrigued by interesting factory work and becoming disenchanted with piling up debt in four-year collegiate programs. I also saw more women who have moved into shop floor work and supervision. It is still a piddling percentage, but growing.
I found it odd that the machine tool behemoths like Mazak, DMG-MORI, Okuma, and Doosan chose not to display. They seemingly blow millions of bucks on IMTS and then claim poverty for off-year shows like PMTS. This leaves the field open for specialty builders to make a big pitch for capex budgets.
Davenport made a splash with their CNC multi-spindle. Many old Davenport folk gasped at the $345,000 price tag, but compared to European 20mm multis the price looked provocative. They sold two the first day.
All of the Swiss CNC folks showed except Tornos. The field is crowded, with Citizen, Star, and Tsugami hogging most of the market.  Citizen folk were beaming as they were coming off their best year ever, their fiscal year having ended just a few days before in March.
Reflecting the boom in Swiss sales, Kevin Meehan of Edge was ebullient about his past year, selling record numbers of FMB and Taiwanese bar loaders and hiring the staff needed to get them out the door and install them.
Yet this was not a crowd of people jumping for joy and putting up new factories. The folks I talked to were pleased but not complacent. Nobody wanted to talk politics, which was not the case during the later Obama years. OSHA was never mentioned.  People wanted to buy stuff, update, improve, but not add square footage. They wanted to buy shops to get customers and employees, not bricks and roofing. It was a Midwestern crowd, an increase over previous years in Columbus, Ohio. I think that was not an indictment of Columbus, but a reflection of happier times and greater convenience.
Hopefully the 2021 PMTS will show similar trends and even greater optimism.
Question: Do you still go to trade shows? Why?