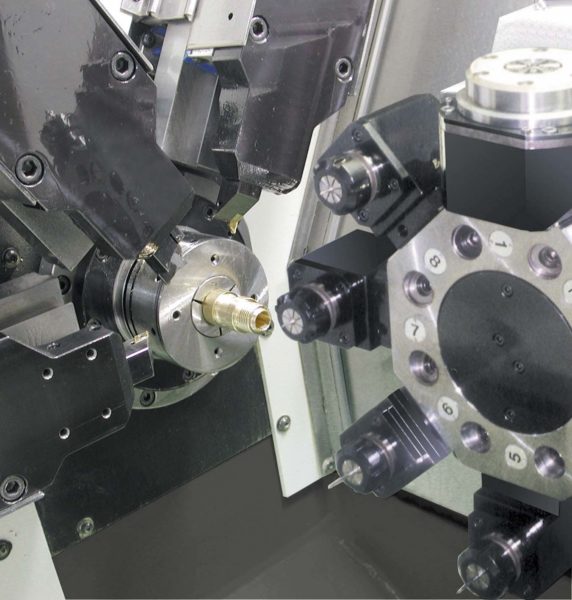 Dear Shop Doc,
I keep hearing about multi-slide/multi-axis turning machines. How are they different from single-spindle screw machines? What are the advantages? Is the technology worth the cost?
Tech Skeptic
Dear Tech Skeptic,
You are wise to be skeptical. Just because they make it, doesn't mean you should buy it. First let's examine questions one and two.
"Multi-slide" means a machine has the ability to engage several tools in the cut simultaneously. Cam-operated and CNC-controlled single-spindle machines are multi-slide machines. However, because the cross slides move only in the X-axis, and the turret moves only in the Z-axis, they are not multi-axis machines. Generally, when we speak of multi-axis machines we are talking about machines with CNC controls that can move a single slide in multiple axes.
Multi-axis means that cutting can be performed in two (or more) axes simultaneously on each slide, and all the slides can be engaged in cutting at the same time. This means that you are no longer limited to straight turning and generating complex shapes with form tools. Usually these machine tools offer great versatility with sub-spindles for back-working, live radial and axial tooling, C-axis spindles, milling and polygon generating. You can expect excellent size control, repeatability and ease to make changes to the cutting parameters. Therefore, you can complete parts that might require multiple secondary operations on traditional screw machines.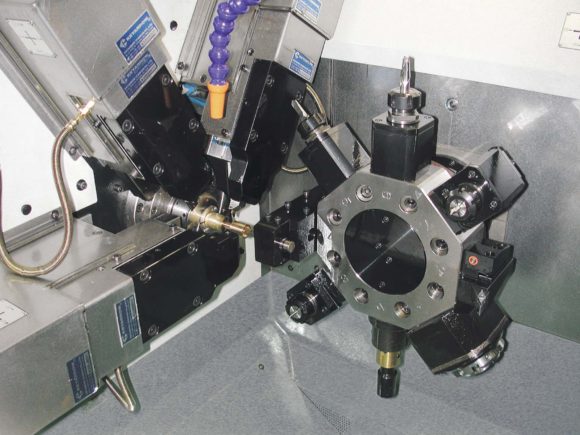 Index, Traub, Gildemeister, Lico and others make this kind of single spindle/multi-axis/multi-slide machine with two-axis cross slides arranged about the spindle, turrets, sub-spindles and back-working. The classification, 2- and 3-turret CNC lathes, technically means multi-slide/multi-axis machines. But when people talk about multi-slide/multi-axis machining, they are most often referring to a machine with multiple, 2-axis slides around the spindle and at least one 2-axis turret.
Now let's answer your very important third question regarding value. For parts that can be dropped complete on single-spindle screw machines, and many parts that are being made on CNC Swiss or CNC lathes, there is no faster way to produce these than modern, CNC-controlled variations on the single axis screw machines such as ServoCam, Ram 2000, and others.
However, if you need to make more complex parts, hold tighter tolerances, or want to eliminate form tools as well as multiple secondary operations, the multi-slide/multi-axis machines are a great choice. They range in price from $200,000 to $500,000, depending on spindle size, and options. While that may sound expensive, remember that these machines can often drop work complete that would normally require a single-spindle screw machine, and perhaps CNC lathes or CNC machining centers to finish.
As always, the key is to match the right part (which includes lot size, material, configuration, tolerances, etc.) to the right machine.
Greg Knight
Question: Do you use any multi-slide/multi-spindle machines in your shop? Was the purchase worth the investment? Which brand machine did you buy and why?
Greg Knight is Vice President of Machine Tools with AMT Machine Systems in Columbus, Ohio. AMT equips Brown & Sharpe machines with ServoCam CNC systems and is the US Master distributor for Lico Machinery.