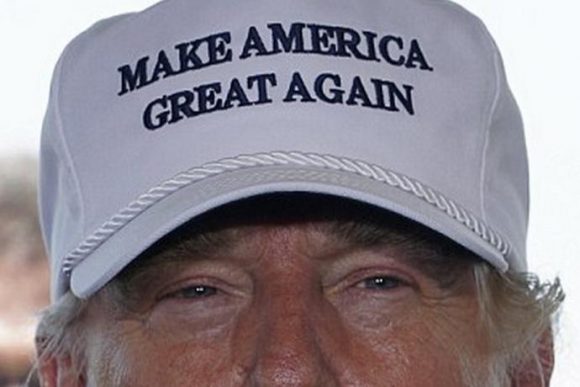 "Make America Great Again." The vision that phrase invokes has half of America backing Donald Trump for President, who last year wasn't a serious candidate, even in his own mind. News of Trump's numerous character flaws pours out in the press, but many Americans couldn't care less and will vote for him anyway — if not out of anger for the system, then in agreement with his shrewdly chosen catch phrase. That's the power of a well thought out vision or campaign.
In 1996, during my Sophomore year of high school in Hinckley, Illinois, our class of 60 kids, made by combining two small towns' 15-year-olds, was bused five miles to the area career center for an afternoon tour. "Just something to think about," the teacher chaperoning us said. We were all glad to get out of class for the afternoon.
There were seven departments to visit; child care, graphic design, auto shop, auto-body painting, welding, some sort of medical program, and cosmetology. Interested students would apply that year, at age 15, and would be bused to the career center for training after lunch each day for both their junior and senior years.
I don't remember much from the day trip, but the image of the dark dirty welding shop is still in my brain 20 years later. Gruff dirty young men ignored us as we watched them play with the blue fire for a few minutes. It did nothing but reinforce my stereotypes about trades, and strengthen my resolve to go to college and get far away from my insular farming community.
Most of the young teenagers who planned on going to the career center had no experience with the seven career paths available. They couldn't imagine what that choice would mean for their future in terms of salary, workplace culture, vacation time, medical insurance, day-to-day duties, future opportunities, etc. There was no vision, no path laid out.
In high school, most young people are dreaming their biggest dreams for their future. At that age your teachers have been telling you that "you can be whatever you want" for years, and you still believe them. The tough reality of day-to-day demands and a 40-hour+ work week is not even on the radar.
At 15, the idea that learning machining could lead to careers in the aerospace, medical or automotive fields that require problem solving and creativity, such as those of a manufacturing engineer, setup person, or even a business owner, probably occurs to few people. As kids grow in tech savvy and exposure, we can give them a vision of what a career in machining can look like over a lifetime. We can make machining seem great again.
A commercial comes to my mind. A machining company's owner in a suit with a staff of 150 employees addresses his team as he prepares to fly to a large board meeting where they will discuss details with NASA reps over parts. "Ever wanted to own your own business? flashes on the TV, "It starts here." Then the picture shifts to the same young man in a work shirt and protective glasses bent over a CNC control learning the minutiae of his future business.
That's an image I could see making America great again. Or, at least it could help people find their way to an undervalued profession that's oozing with potential.
Question 1: How did you find your way to manufacturing?
Question 2: Would you want your child to pursue a career in the machining world?