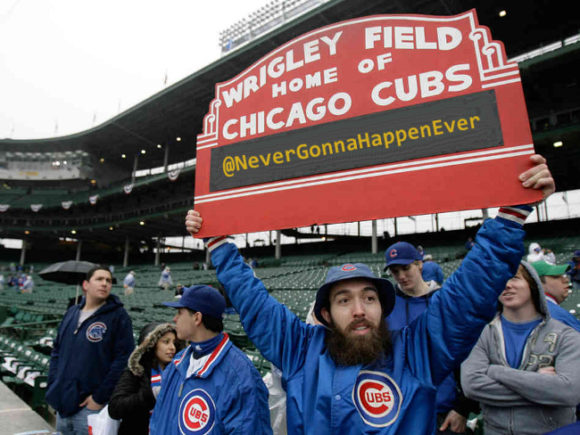 By Lloyd Graff.
My team, the Chicago Cubs, is terrible again this year — like last year, and the year before. They haven't won a World Series in more than a century.
But I still follow them. I still check the results – every night. I still check the batting averages. Believe it or not, I research the minor leaguers too. They are our hope – our "stars of the future."
Why do I do this? Why do I care so much? I mean, I checked the score before I went in for heart surgery.
I am a bloody fanatic in this crazy tribe of Cubs fans. My mother initiated me when I was three years old. She was brought into the fold by her father, who actually knew some of the players on the 1908 Championship team. His family owned a grocery store that was frequented by ancient Cubs like Mordecai "3 Finger" Brown, and Johnny Evers of the famous "Tinkers to Evers to Chance" double play combination.
I'm a member of the Cubs tribe, the Jewish tribe and the screw machine tribe, and probably a few more incidental ones like "folks with permanent double vision because of retinal detachment" and "people who love Sam Cooke songs."
I think people who do not identify with a tribe miss a lot in life. Your tribe grants you an identity. If you are tribeless you are a floater who misses the great joy of connection and sharing that tribe affiliation brings. This does not mean that you cannot reject your tribe and join another, but if you are a frequent sampler of "otherness" you become the non-believer who can never seem to find a home.
I hope you all find peace and acceptance in your tribes. Maybe you will be a brave soul and start your own, a noble though rarely rewarding venture.
Meanwhile, watch out for the Cubs in 2015. This time, we're building a dynasty.
Question: Which communities or "tribes" are you proud to be a member of? Which tribes do you wish you were a member of?
Lloyd Graff is Owner and Chief Space Filler at Today's Machining World and Graff-Pinkert & Co.