One of life's mysteries for me has been the scarcity of great t-shirts.
I am not a clothes hound. My dad liked clothes. He had his suits tailor made by unintelligible Italian tailors who held pins in their mouths while they were talking. Once, he took my brother Jim and I to pick out suit fabric. We inspected bolts of luxurious fabric for our own future custom suits. I remember picking a ridiculous brown plaid. I rarely wore the suit. It never really suited me because it had padded shoulders like my father favored, to make his slender frame look more like a weight lifter's physique.
I still have that plaid suit in my closet. It is one of the few physical items I ever kept from him, not because I like the garment, but because it was so him. I still gaze at it often, because it has so much meaning for me after all these years.
I receive several apparel catalogs every day. I seldom buy much because I hate returning stuff and the items hardly ever look or feel nearly as good as in the picture. I hate buying pants or socks, sweaters, shoes, or underwear. But I have a weakness—t-shirts.
The t-shirt is very "in" today, with many musicians and movie stars wearing them for dress. I wear mine every day as a single layer, or under a fleece or sweater. I guess I have a collection. I pare it down from time to time, but a t-shirt is the first article of clothing I choose each day. I want it to feel right. It has to be all cotton and soft. I never want to feel a seam.
I prefer Pima cotton, preferably from Peru. Some days I desire a little heft, but usually I search out the lightest, airiest jersey I can feel. The difference is maybe a fraction of an ounce, but I can assess it immediately when I lift it a centimeter.
Generally my t-shirts have no message and never a picture. I do have a shirt from a high school reunion that is not Pima cotton, but it has been washed so many times it now almost feels like it. I also have a beloved Powell's Book Shop t-shirt from Portland, Oregon, which used to be America's biggest bookstore before Amazon destroyed the genre. It is an ugly pea green and I adore it.
I still own several t-shirts made by American Apparel of Los Angeles. The company had a rather salacious reputation for risqué advertising and the predatory behavior of its founder,  Dov Charney, but they made feathery t-shirts for men.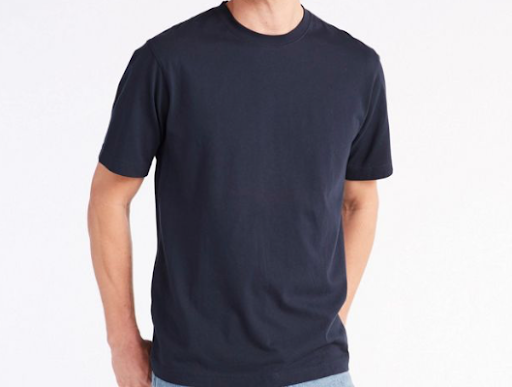 The top of my tee collection however is held by the A-list shirts sold in The Territory Ahead catalog. They use Peruvian cotton, they run big, the colors do not fade over a decade, they sell both short sleeves and long, and they do not have pockets. They make them up to XXL and also in extra long.
Sadly the company went bankrupt a couple years ago without warning. When Territory went bust, I was truly depressed for a few hours, then I began to search for a replacement. I couldn't find one. All I could do was hope for its return from the dead.
It finally happened several months ago. When I saw the announcement on Google I called the purchasing company, J. Peterman Outfitters of Cincinnati, and gave them my name for when the t-shirts returned. With the first sighting, I ordered one of each of the five colors they started with. Sadly there were no white or black, which were my favorites.
They were delayed, but they finally arrived.
They were good—very good. Yet not quite as light and airy as the Pimas of 1999.
It's life.
We get used to disappointment. 
Perhaps only original Jays Potato Chips are as wonderful as they always have been.
But I'll take it. They do still fit me—to a tee.
Question: What is your favorite t-shirt?