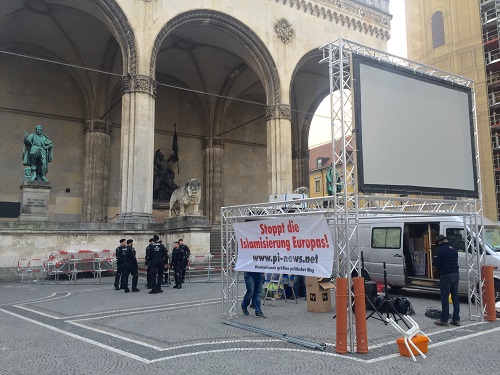 Just got back from a trip to Germany last week.
While we Americans are spending our energy hootin and hollerin about the 5000 Syrian refugees we let into the United States in 2015, who we vetted for a year, Europe, Germany in particular, is letting in an ongoing stream of refugees (and many non-refugees) from the Middle East. Germany alone allowed in around 1.1 million immigrants from the Middle East in 2015. Pretty significant when you consider that the entire country is around the size of Montana.
I queried a few people in Munich on their views of the immigrants during my trip. However, I must admit that the two main people in Germany who shared their views with me were not actually German. Maya was an Israeli woman in her 30s who had been living in Munich for five years and Roberta was an expat from Delaware. Maya glumly told me that people feel less safe walking the city's streets at night than they did a year ago. She believes that many of the immigrants are not actually refugees, but young Middle Eastern men who have slipped in amongst the refugees. I know I'm guilty of racial profiling, but I admit that while I was waiting at an empty train station late in the evening I felt nervous as I observed many young Middle Eastern men loitering around.
One Sunday afternoon Maya and I observed volunteers from the organization PEGIDA setting up a spot for a protest in the famous Odeonsplatz square. PEGIDA, short for Patriotic Europeans Against the Islamisation of the West, is a highly controversial Right Wing group, who many people in Germany and around the world have labeled xenophobic and even as modern day Nazis.
The scene was fascinating because the protesters' tent was being set up in front of the Feldherrnhalle, or Field Marshal's Hall. During World War II a giant portrait of Hitler had stood under the arches of this building. The ruthless Nazi SS enforced a law, that said anybody passing by the building had to turn toward the portrait and do a hiel Hitler. A little alley on the other side of the building has been memorialized for all of the people who took it to avoid the Fuhrer.
Being the inquisitive folks we are, Maya and I engaged a woman who was helping set up. Low and behold her name is Roberta and she hailed from Delaware, U.S.A. She was personable and eager to stop what she was doing to talk to us.
Roberta was an expat who said she had lived in many countries. She calmly explained that she is concerned about the mass unregulated influx of Muslims's pouring into Germany and Europe on the whole. She said that the country does not have the resources to take care of all the immigrants and that the money being used to take care of the immigrants could be instead going to support the pensions of the country's retirees. We asked her about the organization's opinion of Jews and Israel and she beamed with positive words for both. She also said she has friends in Germany who are Muslim but agree with her in her dislike for the massive influx of refugees. She specified that her friends are "secular Muslims." Roberta also introduced us to her friend who was also setting up for the protest. She said he is half Jewish. We inquired several times if there were other people in her organization who are antisemitic or extremist and she repeatedly said no.
I admit that a lot of things she said seemed to me to make sense. I am pretty sure I would have mixed feelings about allowing any group of 1.1 million asylum seekers in just one year into my country. I suppose even if a group was comprised of the nicest, safest, most productive people on earth and didn't require billions of Euros in government assistance, I still wouldn't love it. Germans now feel less safe, they feel they are being taken advantage of and feel the government is not fixing the problem.
Near the end of the conversation she made a statement I also often hear in the United States that upsets me. She said something like, "Just read the Koran. It says how the Muslims hate everyone and want to take over the world." What was this PEGIDA? What are they truly about?
I loved visiting Munich, but I'm glad I don't live there.
Question: Does Donald Trump scare you?
Noah Graff is a used machine tools dealer for Graff-Pinkert and has been Features Editor at Today's Machining World for 10 years.