My dad and I arrived in Nashville last Thursday afternoon to go to a conference put on by the Precision Machined Products Association (PMPA). After checking in at our hotel I headed straight to Broadway to take in the main attraction of Nashville, the prolific Country music scene. I can't say I'm a true country music fan, though I do love Johnny Cash, but I was in Nashville so I had to listen to some Country music. I find that even if I'm not an expert or big fan of something, be it jazz, bull riding, or sniper rifles (at the Shot Show in Vegas), if I'm in a place that features the best in world of something I can usually appreciate it and get into it. So in Nashville I was ready to expand my mind and hopefully be wowed by the next… shoot, I don't know jack about about Country music so nobody clever comes to mind.
For those readers who don't know about Nashville's music scene—I really didn't—it's kind of the Mecca of Country music. It's the place to see some of the best emerging Country artists in the world, the ones who are on the cusp of becoming stars on the radio. It's also home to many great artists who will never be heard by people outside of Nashville but play for the love of the music and performing.
Artists in Nashville have the opportunity to practice their craft constantly, getting to perform long sets in medium-sized local bars with passionate audiences throughout the day and until 3:00 a.m. Sometimes they even play sets at more than one bar in the same day. There is probably no better place in the world for a musician to get in the 10,000 hours prescribed by Malcolm Gladwell to achieve mastery.
The main drag for Nashville's music venues is Broadway, with some other interesting spots off the intersecting avenues, primarily 2nd Avenue. I strolled Broadway for a half hour in the late afternoon, feeling uninspired to go in anywhere. Music seemed uninteresting, and I was turned off by the street's commercial Disneyland feel. Picture continuous neon signs of Cancun's Party City framing the world's highest per capita number of bachelorette parties riding booze bicycle trollies. Ehhhh! And so many tourists. I met more people in Nashville from Chicago than from Nashville!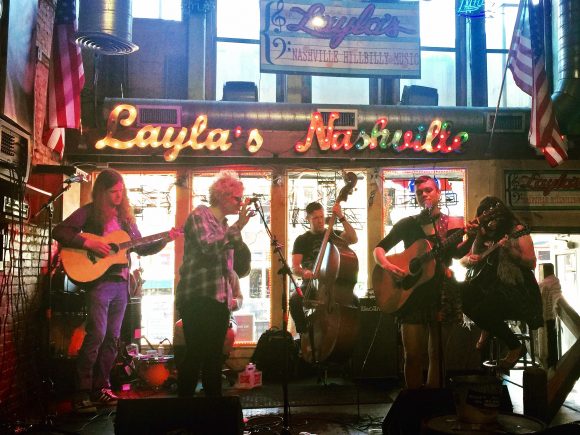 But then something caught my ear. Something twangy, melodic and fun, that at that moment reminded me of the soundtrack of the Coen Brothers movie, Oh Brother Where Art Thou. I looked up and saw a smiling middle-aged woman at the door who invited me inside of Layla's to hear a Blue Grass band called The Risches. Layla's seemed a little different from elsewhere. It felt more raw, more like how I would picture a real honky tonk. It had a simple decor, with some posters on the wall and hundreds of colorful license plates hanging from the ceiling.
On stage were six musicians. A skinny long haired man in his 20s or 30s played an acoustic guitar at left stage. At right stage a pregnant woman sitting on a stool also played guitar, and behind her was a man playing base. A cute fiery chick in her 20s with a quasi mohawk, wearing a miniskirt and cowboy boots, furiously played fiddle and guitar and sang, and a woman with a wild mop of short blond curly hair, wearing big dark sunglasses, belted out surprisingly powerful and beautiful tunes. I guess she gave me a rebellious Janis Joplin type vibe. Finally, a blond woman with short blond hair in her 50s or 60s sat discreetly on a stool in back playing a snare drum with brushes. Everyone on stage sang and played guitar at some point in the set, aside from the base player.
I had to leave after 30 minutes to go to the conference. When I stepped outside I chatted again with the sweet woman at the door. She told me that the older woman playing the drum was Layla, THE Layla who owned the bar. She said that everyone on stage were siblings. They have been playing in Layla's since several of them were kids. She said some were practically raised on stage! I researched the Risches, formerly known as Jypsi for this piece. Turns out some of the members have solo albums in addition to those recorded as a group. They perform at Layla's three days a week at various times a day. I'd recommend you check them out if you're in the neighborhood. I saw some other talented musicians over the next few days at other decent venues, though nobody I loved like the Risches. I'm happy to say that underneath its commercial shell, Nashville does deliver the music it's known for—it has a soul. And though I've developed an appreciation for both, I think I'm slightly more likely to download a Country song than buy a sniper rifle.
Question: Who is your favorite Country singer?