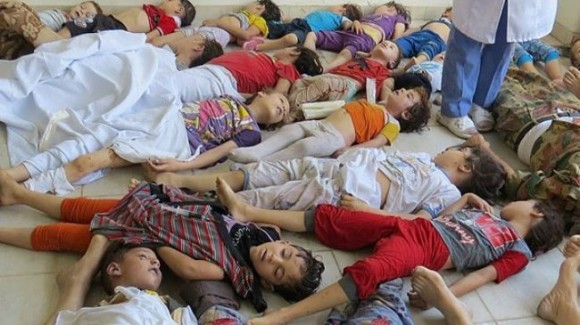 By Lloyd Graff.
I listened to President Obama's speech on Syria Wednesday. It shook me up, particularly the line about the children who were gassed and "never woke up."
I woke up at 4:30 am in a cold sweat and I could not go back to sleep. I saw the images of the poor gassed children in their burial white sheaths. And then I remembered my moment under the showers that spewed the Zyklon B gas at the Majdanek concentration camp in Poland.
I was a concentration camp "tourist" at Majdanek, which is inside the Polish city of Lublin. The Germans did not put the killing camps in out of the way places. Dachau, which my son Noah visited a few days ago, is 25 minutes from Munich.
The "showers" at Majdanek were just a few steps from the barracks where people slept before being gassed to death. The ovens – crematoria – were also close by. Efficiency, Nazi style.
One thing I learned in my visit during the winter of early 1999 was that Jews were not the only ones exterminated. The mentally challenged, homosexuals, gypsies, criminals, malcontents and protesting priests were all herded into Hitler's camps.
We got to Majdanek, a small group from Chicago that I joined while on a business trip to Poland, late one snowy afternoon. I shed my coat, then my sweater and shirt while the others moved into the buildings. I wanted to feel the chill to my bones. It hurt – a little – but it was nothing like the shower room. I just stared at the showerheads, mesmerized by their ordinariness. I felt like puking, but I didn't. I just stared and imagined. And then I walked away.
When Obama talked about "the children who never woke up" I returned to Poland in my mind. Syria seems a long way from America, but Assad's atrocity must not go unpunished. People speculate that a few well-placed bombs at Auschwitz might have saved many more lives than they would have cost. A drone strike on Assad's palace might well be the wakeup call that could end the carnage and force him to give up the gas.
I will never forget Majdanek. The civilized world should never forget the 1,400 gassed to death in Syria.
Question: Should the U.S. punish Assad?
Lloyd Graff is Owner and Chief Space Filler at Today's Machining World and Graff-Pinkert & Co.