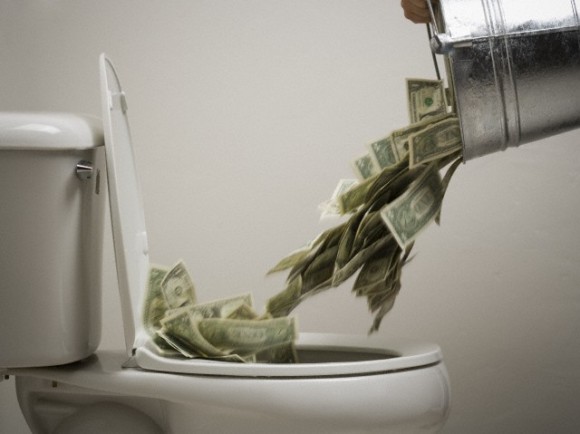 Practical financial lessons are rare in school, and lately I've been noticing the lack of sophistication and street smarts that my fellow 30-something friends have about money. Many of my friends have given up hope that they can live any other way but in debt and paycheck to paycheck, and have accepted their situation as permanent. They don't talk about it too much, but I see a heavy cloud hanging over them. These are my peers and my friends – some of America's struggling and under-employed 33-year-olds, with $34,000 of student loan debt, an annual salary of $24,000, and a $25,000 car loan. Personally, I have been able to resist the 0% interest new car loan and credit card disasters, but some of my friends haven't been so smart. They don't know how far in the red they've gone. They have mired themselves into an 8-year loan on a depreciating car and wedded themselves to a usurious credit card with compound interest. They are stuck.
CHRISTINE
My friend Christine is a 31-year-old worker at an animal shelter. She's been there for nine years and now makes $12 an hour answering phones, cleaning litter boxes, and processing applications. She's an incredible worker. She treats the shelter as if it were her own business, and in return gets a moody bitchy boss, works every weekend, and hasn't had a raise in three years. She stays because she believes the animals need her, and she's afraid to move out of her comfort level. She's the kind of worker you'd sell your kidney for.
Christine lives in a trailer park where the lot rent is $575 a month, and she regularly has sewage backing up into her teeny lot. She's lived there for several years with her pot addicted high school boyfriend who doesn't work – never has and never will. They live together mostly as roommates now. She would marry him if he asked, but he hasn't brought it up.
At her boyfriend's urging, Christine bought a new Toyota Rav4 at just under 5% interest last year, with many kudos from her Facebook friends. She couldn't tell me how much the car cost or how long she'd be paying for it. All she knew was how much the monthly payment would be.
Christine has never left Illinois and frequently talks about winning the lottery. She bought a house in 2006, but lost it in 2009 to foreclosure. Her dream is to own a modest 800 square foot house with a fenced-in yard for her two little dogs. Christine will be paying off her student loan of over $20,000 for the next 20 years or so.
KARA
Kara is a 25-year-old department secretary at a local college. She never finished college herself, even though she is bright and quick-witted.
Kara has a four-year-old child fathered by her on-again off-again boyfriend of seven years. The most recent time they got back together, he had a job working at a factory and had promised he'd buy her a house. She went back to him, and they lived in the home for about two years. Then one day he threw a fit at work and punched the time clock – literally – and was promptly canned.
Kara calls him a baby. She says he's always whining about things and demands that their house be spotless, even though she's working full-time too and drives their daughter 30 minutes every morning and night to be taken care of at her mother's house.
Their pathological pattern is for him to insult her then win her back with expensive jewelry. They love 0% interest store credit cards, one of which awarded them the largest outdoor projector screen I've ever seen in a backyard.
When he recently lost his job, she left him alone and penniless in their house and moved back in with her mother. When he wasn't working, she couldn't stand to have him around so much and hated his neediness. She took their daughter with her.
The last time I saw Kara on Facebook she was selling a baby car seat for $20. I asked her how she was doing and she replied, "broke." I truly believe she did not have a dollar to her name.
ALEX
Alex is a 37-year-old woman. She used to run a fancy clothing store at the mall, not just one store, she managed the entire Midwest region. The stores consolidated, and she lost her job in the crash of 2008.
Because she and her husband had filed for Chapter 13 Bankruptcy four years earlier, Alex decided to get a job that was not on the books, so she started cleaning homes for cash. She has built up an extensive network of clients who own fancy homes on Lake Michigan. They call her and keep passing her name along. She's recruited two friends to expand her off-the-books business.
Alex has one 19-year-old son who still lives at home and recently stormed out of his job at Wal-Mart when the manager wouldn't accommodate his scheduling request. Now he's collecting carts at a local grocery store. He was given his grandmother's old car as a high school graduation present, but it sits unused in their driveway because he can't hold onto money long enough to make an insurance payment. Alex has to drive him to and from work.
Alex's second husband of 10 years has no patience for her son's laziness and wants him out of the house. Her husband also struggles with depression and blames Alex for his unhappiness. His latest destructive thought is that she's just with him for his money. Alex is afraid he's cheating on her.
I'm the first to admit that fear is my main motivation for being debt free and having a nest egg. I'm blessed with a streak of old-fashioned independence and fear of embarrassment at the thought of asking family or friends for help. But I think it's a healthy fear and a positive kind of pride. At least I won't be selling junk on Craigslist to eat this week.
Question: What financial mistakes did you make when you were young?