Last weekend I took a Uber downtown.
After a few minutes of chit chat, my driver told me he was an immigrant from Syria who came to the U.S. five years ago.
I asked him how he felt about our incoming President, expecting to get a strongly negative earful, but I was surprised by his response. First, he said he agreed with Donald Trump that our borders need to be more secure. As an immigrant who came to the United States through a legal process it makes sense that he would prefer that others do so as well. He said he wasn't that afraid of Trump because he believed the United States' system of government was designed to prevent a President from overstepping his bounds. He has an interesting perspective as someone who lived under the despotic Assad Regime.
Richard told me that the process to emigrate to the U.S. started 12 years ago. He and his family, a wife and two daughters, were sponsored by his brother who had emigrated in 1985. It took seven years of vetting for his family to finally be allowed to enter.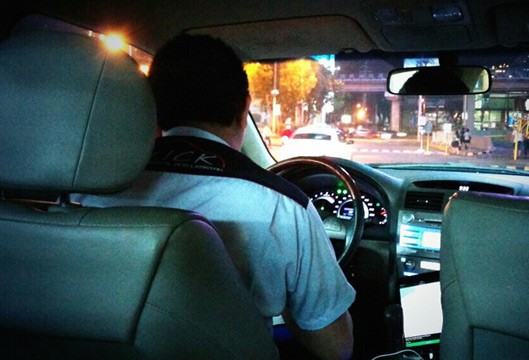 When I meet someone like Richard the first thing that comes into my mind is that he must feel so thankful to be living in a safe, free, prosperous country like the United States. I think Richard does appreciate the safety of the United States while his home country withers in turmoil, but he definitely did not sound content in his current situation. In Syria Richard was an engineer and owned a company with 12 contractors working under him. Before he left Syria the government seized all of his assets, including his land and the money in his bank account. He said he arrived in the United States with $30,000.
Richard's two daughters are 19 and 21. One daughter is in college and the other has graduated from Northeastern Illinois University, a decent public school in Chicago. He bragged about their 3.9 GPAs which they achieved while also working to earn enough money to pay for their educations. He complained that he has no time to spend with his family because he is constantly having to work. He complained about paying for Obamacare, which he considered a poor value for the cost. He complained that his kids are saddled with huge debt from college loans and that he can't work as an engineer in the U.S. because his degree is not accepted here. He said it costs $60,000 to earn an Engineering Masters Degree, which he cannot afford. He told me he finds it crazy that in the country with the richest economy, healthcare and education are unaffordable while in most developed countries, including his native Syria, those services are provided free by the government.
I have sympathy for Richard. He seemed so tired and felt trapped in his situation. As someone who came from a position of stature and wealth driving a taxi for 12 hours a day torments him.
Despite being such a downer, I found Richard strangely endearing. I admired his tenacity and the sacrifice he has made for his family. As I reached my destination I remained in the car for several minutes to listen to an articulate, candid opinion of an Arab immigrant living in the country I grew up in. It was fascinating. It was healthy.
He sounded like so many other Americans who say they feel hindered from succeeding.
Question: Do you feel hindered from succeeding in the United States?