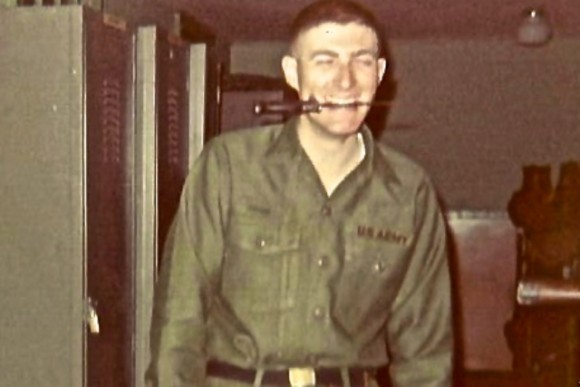 My wife and I went to see Clint Eastwood's film, American Sniper. We thought it was a well made movie, Bradley Cooper was superb as Chris Kyle, but we walked out halfway through. Two tours in Iraq were all we cared to watch.
For me, it brought back sad memories of my youth – the Vietnam War – the war I was supposed to fight in, but managed to avoid.
I did go into the Armed Services. I left for Fort Jackson in South Carolina for Basic Training on New Year's Day 1968, but I went as a member of the Illinois National Guard.
I figured I had a better than 50-50 chance I would not go to Nam. I expected to come home in five months and go back to college, writing papers and taking exams, not shooting at Viet Cong in black "pajamas" waiting to ambush me in the rice paddies.
At Fort Jackson I was one of two Guardsmen amongst my training company of 300 guys. The war was at its peak and the Tet Offensive was starting. In my bunk there was a sense of fear and anger in the older drafted guys. For the young kids there was excitement in some, bewilderment in others. For the Hispanic kids there was a feeling of displacement. They may have been saying, "This isn't my war, but I'm here, so I better learn how to be a soldier."
I was a journalist by training so I tried to assume a bit of detachment. I wanted to record the details in my head to recount later. I also wanted to believe I wasn't going to Vietnam to keep from freaking out.
In my bunk one third of the guys were older and had experience in college. They were all trying to figure out a way not to go to Vietnam. They knew I was Guard, but they showed no resentment toward me, which I found surprising. Were it the other way around, I think I would have been jealous.
The training sergeants were generally professional and fair, except for a newly minted one who had never gone to war. He hated me and devoted himself to torturing me when he could. He used crude psychological warfare, telling me that all the Guardsmen were going to be activated and sent to Nam. He was a really shrimpy guy, a foot shorter than me, from New York. He always wore his Smokey the Bear hat to make himself look taller, but I think he hated me even more vehemently because of a sense of inferiority over his height.
It was winter at Fort Jackson and everybody got sick. Some people wanted to end up in the infirmary, but that ended when one of my bunkmates went to the infirmary and never returned. It was announced that he died of meningitis. We got our first passes right after that announcement. I went immediately to the biggest hospital in Columbia, South Carolina, and marched into the Emergency Room. The doctor looked at my throat and gave me a shot of penicillin. He assured me I did not have meningitis, and I felt like a new man. I went to the Union of the University of South Carolina and luxuriated in the company of college students. I watched basketball on TV, I even called a sorority and told them I was available. Amazingly, some young women came to meet me and one ended up inviting me to a big dance.
Then it was back to Fort Jackson. I learned how to shoot a rifle, take it apart and put it back together. It was an old M-1, not the M-16, because the Army was short on rifles in early 1968. We got into good physical condition if we could stay healthy in the raw weather. We learned how to march and slither on our bellies. The highlight of Basic was the obstacle course with live ammunition being fired over our heads as we burrowed under barbed wire and traversed a 300-yard course that seemed like it was three miles.
I graduated from Basic in eight weeks and stayed at Fort Jackson for specialty training in "Communications." I had thought maybe I could use my writing background, but "Communications" was stringing wire on telephone poles.
I became adept at climbing 35-foot poles using metal spikes on the insides of my legs. Got a lot of splinters, but it was easier than Basic and the weather was improving.
Things went fairly smoothly and it was looking like I was going to survive Fort Jackson, but on April 4, 1968, Martin Luther King was assassinated. There were riots in Los Angeles, Chicago and elsewhere. The National Guard was mobilized around the country. It was a terrible time in America but it also meant Guardsmen in big cities were needed to back up the police. I realized I probably was not going to end up in Nam like most of the guys I had spent four months with in South Carolina.
Selfishly, I just wanted to get home. I felt bad for everybody headed to Saigon, but I just wanted to not think about the killing. When I got home I hugged my parents and quickly left for college. It was a wonderful place to try to forget about the war and all the good guys who were sent to that awful place.
Question:  Where were you during Vietnam?